Haridwar is one the famous Holy place of India. Hence Haridwar is popularly known as Gateway to the Lord. According to the Indian mythology, it is one of the places of char dham Yatra. The life of Haridwar is simple and peaceful. Haridwar is a focal point, where devotees gather to bath and worship on the Gangas. There are several temples in Haridwar for worship that we cannot mention them all.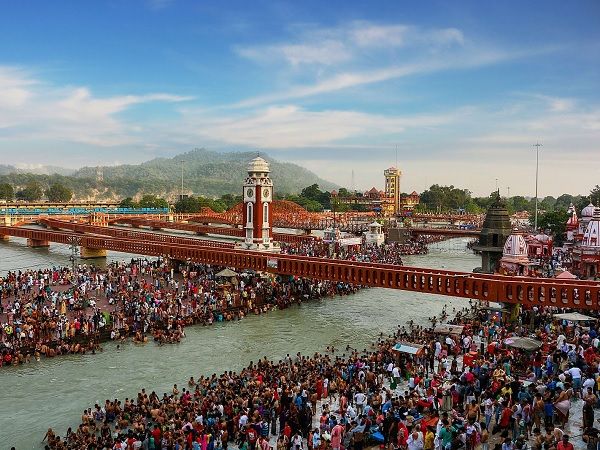 So, the 15 Famous Temples in Haridwar you must visit in 2021 are-

1. Mansa Devi Temple (Pay Reverence To Goddess Shakti's Avtaar)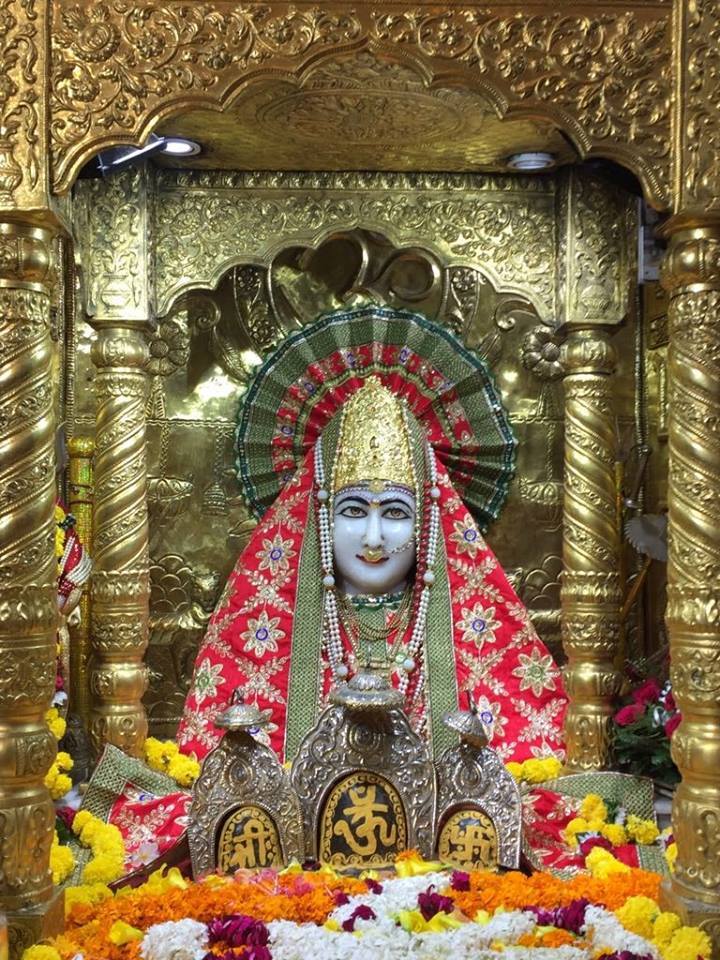 Mansa Devi Temple is considered as a must visit temple for devotes. It enhances the holy tradition of Haridwar which persists in the place from many past centuries. It offers views of the River Ganges and the plains of Haridwar. The rope-way service known as "Mansa Devi Udankhatola" was introduced for the benefit of the people who visited there, by which they directly reach to lower station of Mansa Devi Temple. The total length of the rope-way is 540 metres (1,770 ft) and the height it covers is 178 metres (584 ft). On a normal day, the temple is open between 5 am and 9 pm, except for lunch closings of 12 pm to 2 pm.

2. Chandi Devi Temple – Visit During Navratri Or Kumbh Mela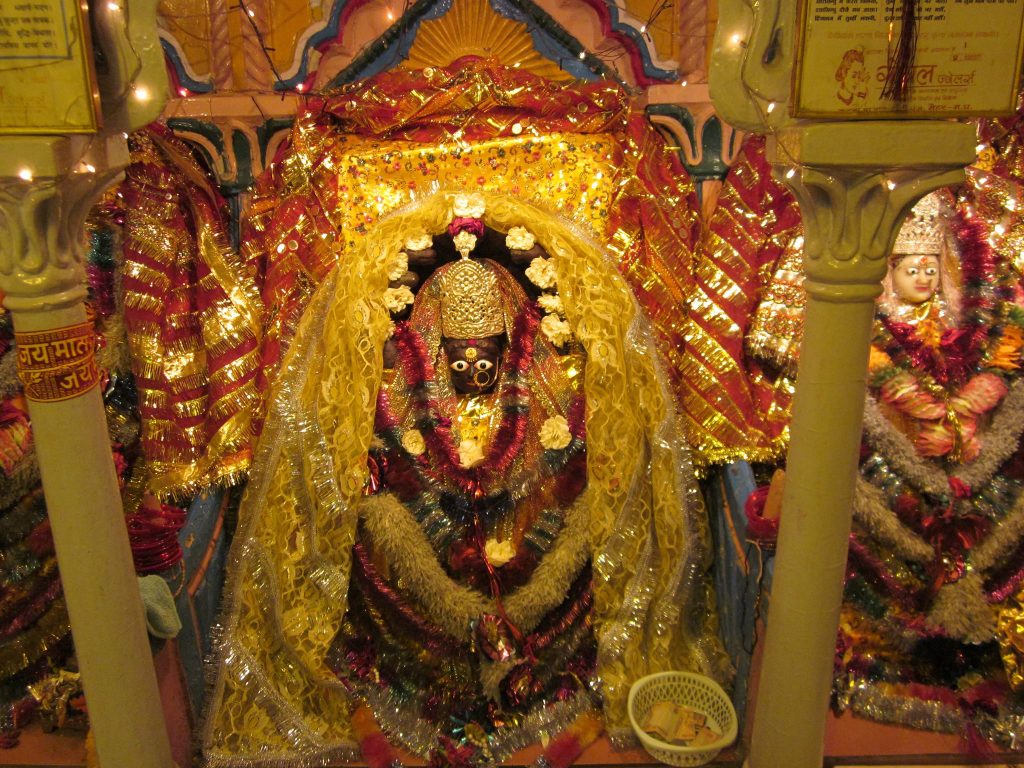 Chandi Devi Temple, Haridwar is a Hindu temple dedicated to Goddess Chandi Devi in the holy city of Haridwar in the Uttarakhand state of India. The temple is situated at top of the Neel Parvat on the Eastern summit of the Sivalik Hills, the southernmost mountain chain of the Himalayas.

3. Har Ki Pauri Ganga Temple – The Breathtaking 'Steps Of Shiva'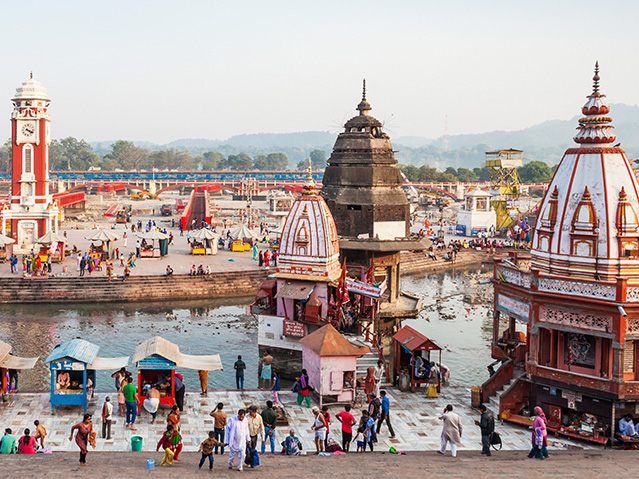 Har Ki Pauri Haridwar is one of the most ancient place in India that has been reverence from times immemorial. Hari means (Lord/God) and Dwar means Gateway. Har Ki Pauri is a famous ghat on the banks of the Ganges in Haridwar in Uttarakhand state in India. This revered place is the major landmark of the holy city of Haridwar. Lord Shiva and Lord Vishnu are believed to have visited the Brahmakund in Har ki Paudi in the Vedic (ancient period) times. There is a large footprint said to belong to Lord Vishnu on a stone wall.

4. Daksh Mahadev Temple – A Prominent Lord Shiva's Temple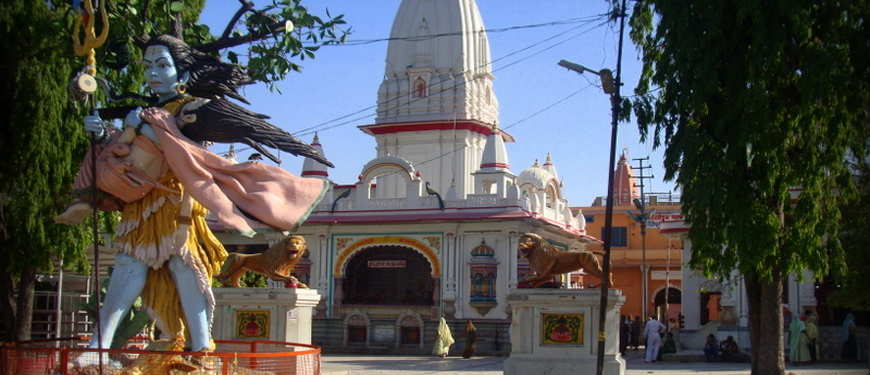 Daksheswar Mahadev or Daksha Mahadev temple is a Hindu temple dedicated to Lord Shiva, located in the town of Kankhal, about 4 km from Haridwar, Uttarakhand, India. It is named after King Daksha Prajapati, the father of Sati. The temple where Devi Sati sacrificed her life and 51 Holy Parts of her body fell on different places of Bharat, which are today worshipped as Shaktipitha. Holy river Ganga is flowing right next to the temple, where arti is done every evening, the temple is Beautifully coloured.

5. Bharat Mata Temple – A Must-Visit For The Patriots


Bharat Mata Mandir is located on the Mahatma Gandhi Kashi Vidyapith campus in Varanasi, India. Instead of traditional statues of gods and goddesses, this temple has a huge map of undivided India carved in marble. This temple is dedicated to Bharat Mata and claims to be the only one of its kind in the world.

6. Maya Devi Temple – Where All Prayers Are Answered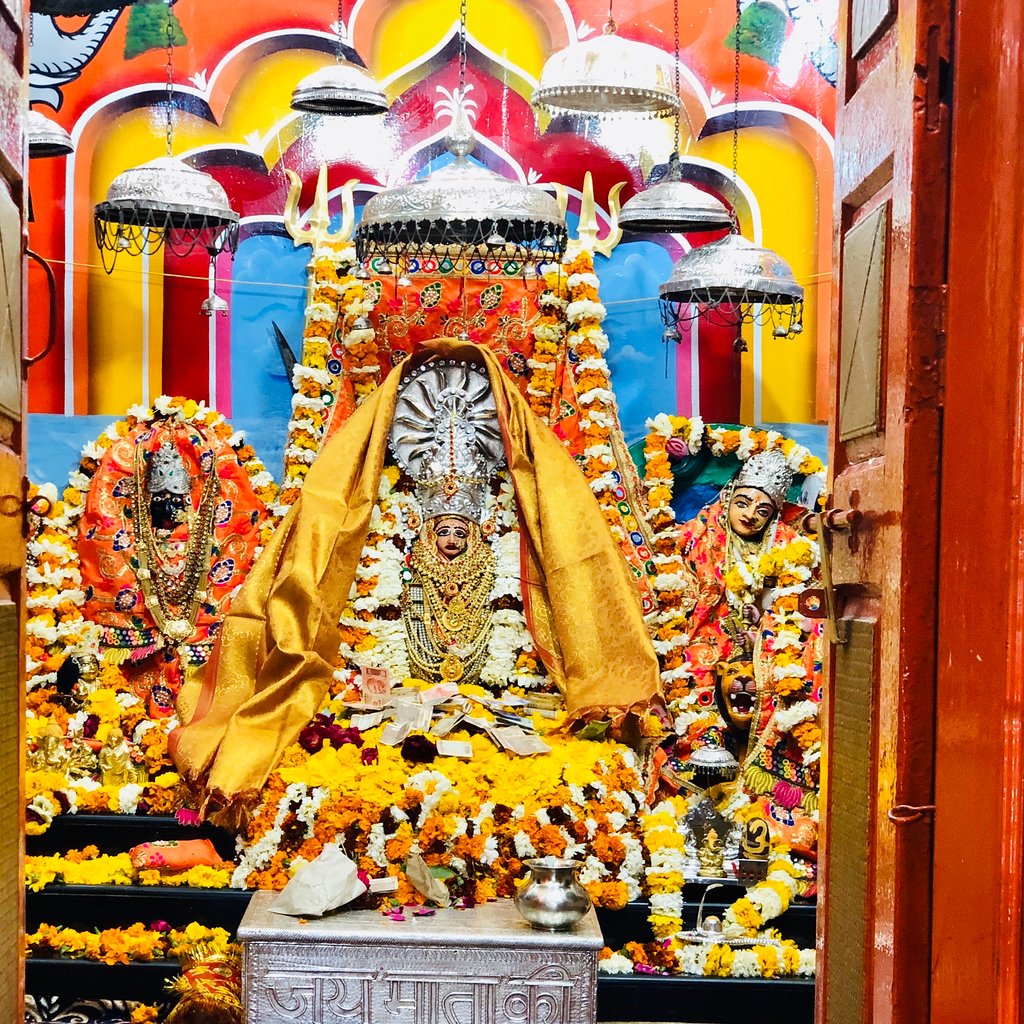 Maya Devi Temple, Haridwar is a Hindu temple dedicated to goddess Maya in the holy city of Haridwar of Uttarakhand state in India. It is believed that the heart and navel of goddess Sati fell in the region where the temple stands today and thus it is sometimes referred to as a Shakti Peetha.

7. Neeleshwar Temple – Admired For Location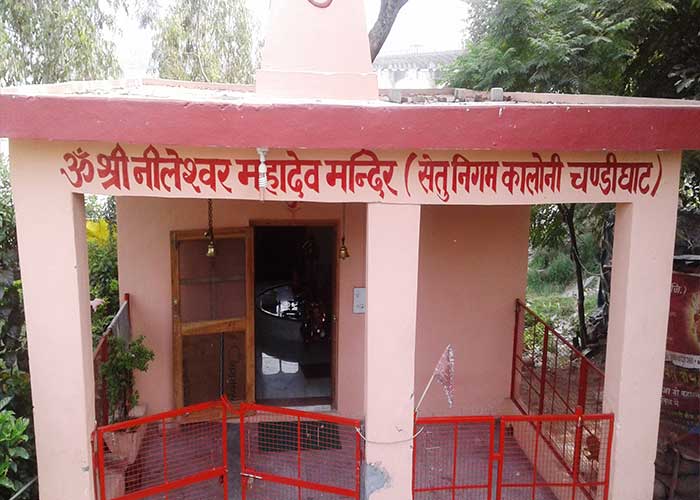 Neeleshwar Mahadev Temple, Haridwar is placed in Nil Parvat of Uttarakhand state of India. Standing along with its mythological dignity among the specific coloration of nature, this temple gives tremendous happiness of Divinity with beauty. The area in which the temple is situated offer peace to thoughts and frame. A self-made Shivalinga is positioned on this temple. Neel Mountain series offers scenic views from behind the temple. From the backside of this temple, the devotees also can see the Chandi Devi Temple placed at the top of Nil Parvat.

8. Jain Temple – Favvorite Amongst Locals And Tourists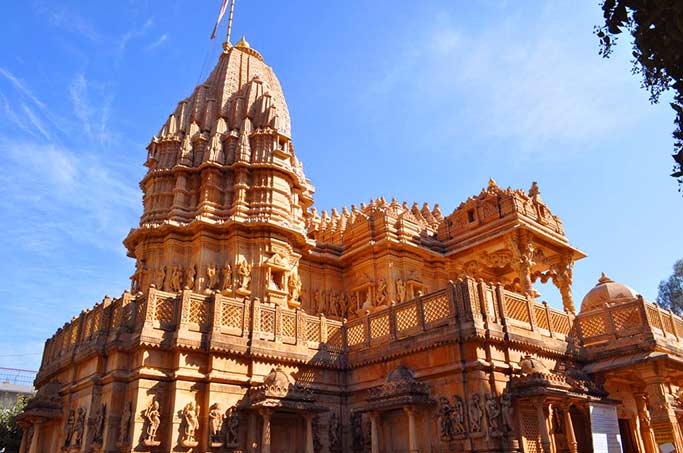 The Jain mandir is first temple dedicated to the faith of Jain religion in Haridwar. Shri chintamani parshwanath bhagwan's idol is beautifying the first floor of temple while the ground floor is blessed by the idols of tirtahnkar shri adhinath bhagwan, made in white marble. There is a small temple of shri ghantakaran mahhavir on the right. On the left, there is one separate temple dedicated to shri adhinath bhagwan, in the form of huge foot imprints, the replica of Shantrunjay tirth in Palitana.The temple is located at the Rishikesh Road, the temple was built in 1990s. Dedicated to Shri Chintamani Parshwnath Bhagwan, the temple complex is famous for its intricately carved marble interiors and is a brilliant example of Jain architecture.

9. Saptrishi Ashram – Pray In Tranquillity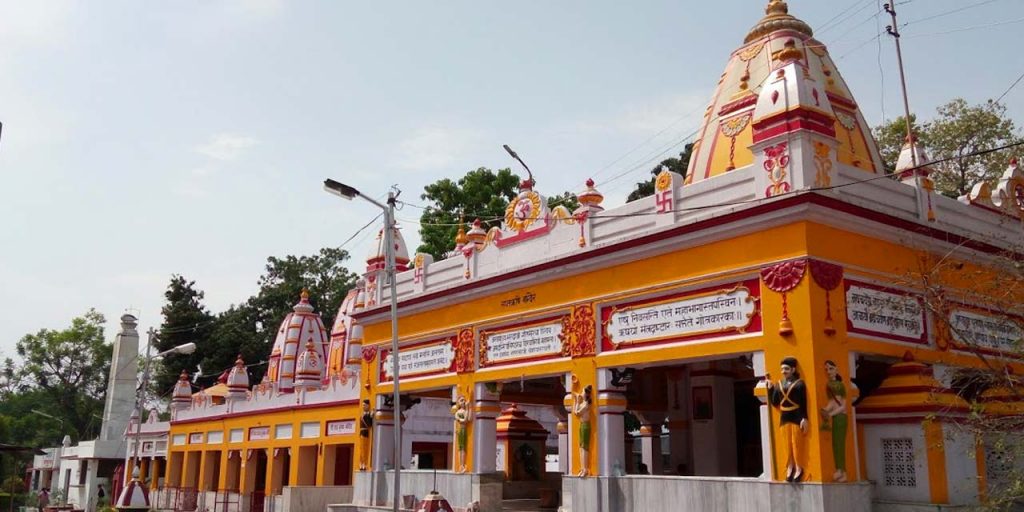 Saptrishi Ashram is an old beautiful ashram located at 5 km from Haridwar on the banks of Ganga (Sapt Sarovar). Established by Goswami Guru Dutt in 1943, Saptrishi Ashram is a well maintained complex with several rooms to stay. A residential hostel and sanskrit school is located within the complex for poor children. The ashram is located the bank of river Ganga, at a point from where the river splits into seven different streams, also known as sapto sarovars.

10. Vaishno Devi Temple – Abode Of Three Goddesses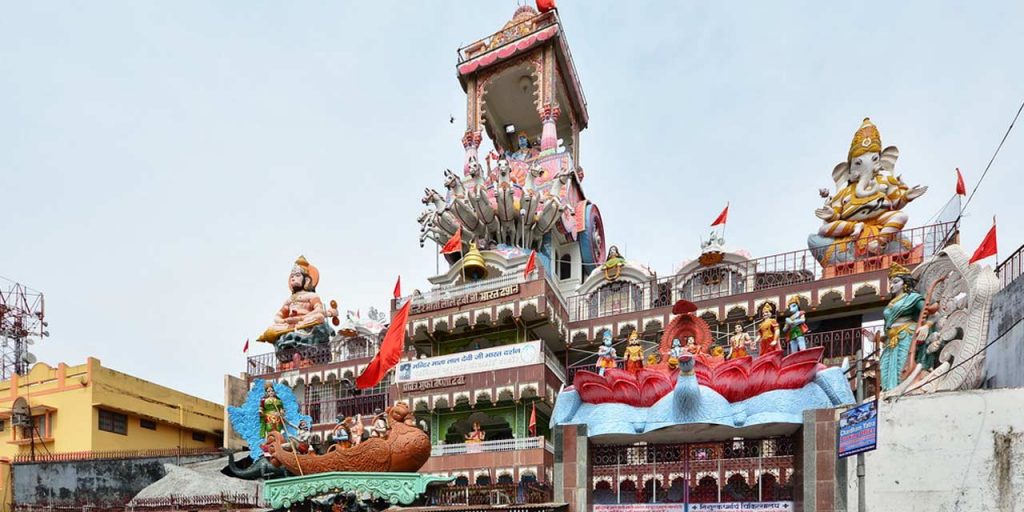 The Temple is dedicated to Mata Vaishno Devi, and is modeled after the famous Vaishno Devi Temple in Jammu & Kashmir. The temple is relatively new but it has been attracting large number of tourists. This temple is becoming a major tourist attraction in Haridwar. The main deities in the temple are Goddess Lakshmi, Goddess Kali and Goddess Saraswati. It is believed that all three Goddesses together became Vaishno Devi in order to kill the demon Mahishasura. It is believed that the Goddess blesses only those who truly intend to seek her blessings from the bottom of their hearts.Apart from Kumbh Mela, the temple celebrates many festivals like Basant Panchami, Makar Sankaranti, Ganga Dussera, etc. with great devotion.

11. Gaurishankar Mahadev Temple – Admired For Peace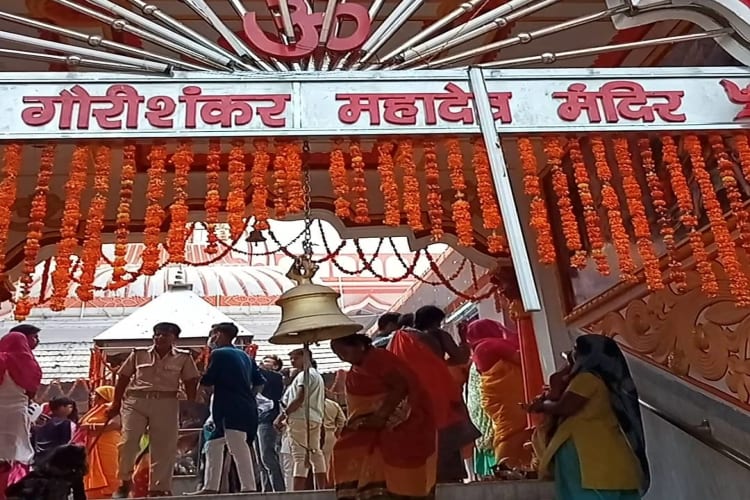 This place is belongs form lord Shiva and mata parvati , Haridwar. The place is nice in between trees, the ambience is also good and generally with less crowds. This temple is near Maa Chandi Devi Udan Khatola. So, this temple can be visited with Chandi Devi Mandir. A Gau Shala is also there. The surrounding of this temple was nice. It is a peaceful place also if you go there please read about the history about this place you will find there.

12. Mahamrityunjaya Temple – For Inner Journey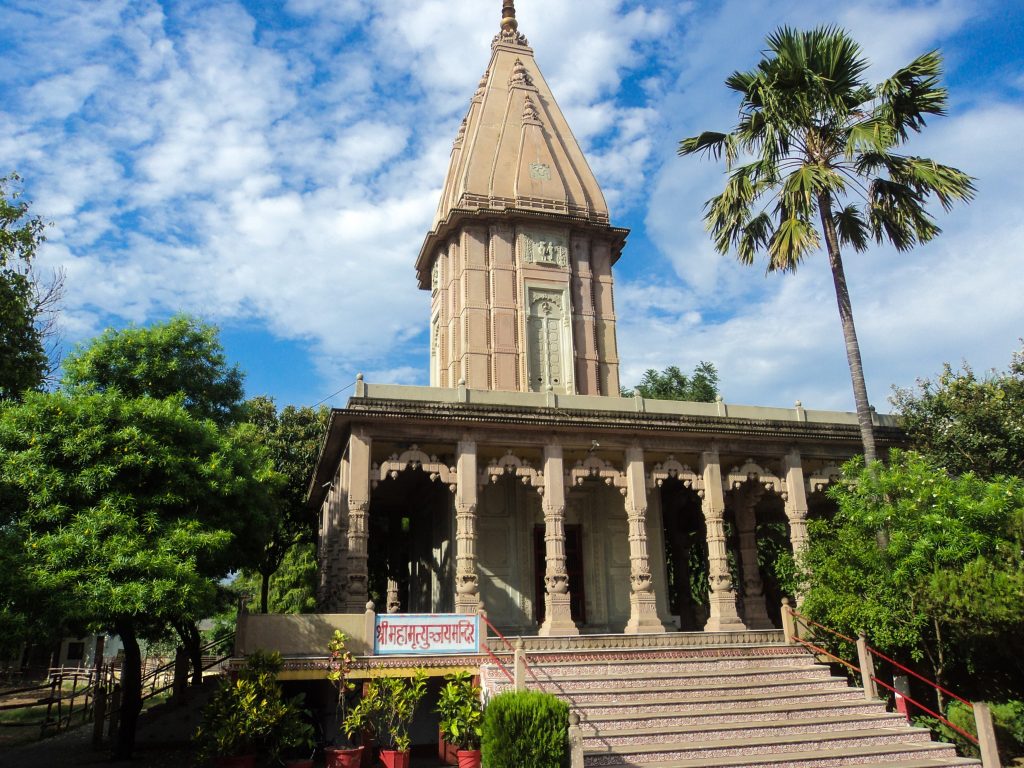 This temple of shiva is eastern facing and the linga is worshipped as the savior from death. The temple is famous for its Mantra or Lord Shiva Mantra that is believed to be very powerful and significant by the Hindus. It helps in the removal of evil effect and also famous as the Moksha Mantra of Lord Shiva. The unique linga has eye shaped opening. It is believed that reciting the Maha Mrityunjay Mantra is an auspicious and powerful method of self-realization. It help to remove the evil effect.

13. Bilkeshwar Mahadev Temple – One That Holds Mythological Significance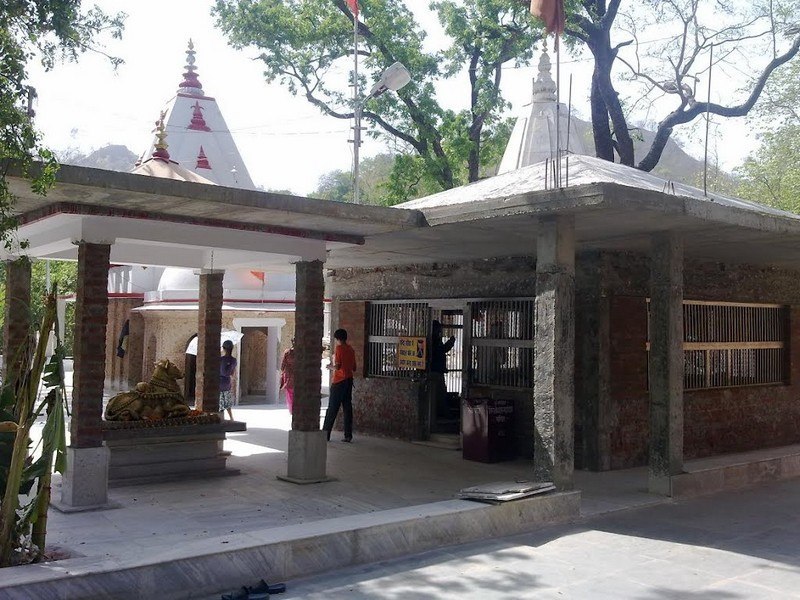 Bilkeshwar Mahadev Temple is the Lord Shiva temple located in Haridwar in the state of Uttarakhand. This temple is located at a distance of about 3 km from Har ki Pauri in Haridwar. The temple is believed to be very ancient. In this temple, Shivling made by ordinary stone and is surrounded by jungles in a mountainous area. The temple also has idols of Lord Ganesha, Lord Hanuman and Mata Rani. It is said about this place that Goddess Parvati did penance to get Lord Shiva as her husband.

14. Pawan Dham Temple – Architecture Worth Witnessing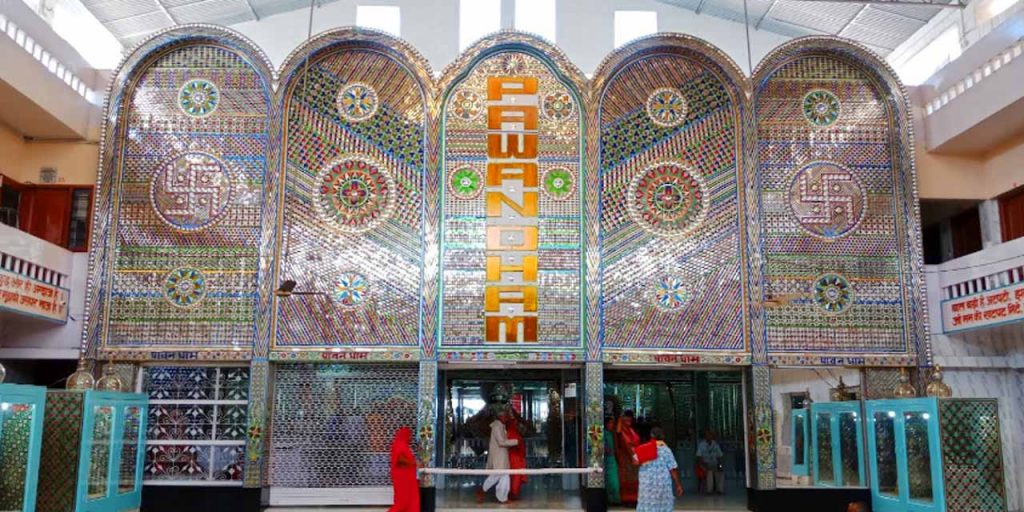 Pawan Dham is a social non-profitable organization and is one of the most visited temple by the Hindus. Swami Vedantanand Ji Maharaj founded this temple. The major attractions of this temple are the idols, which are adorned with precious jewellery. The Temple is currently taken care by the Pawan-Dham, a branch of Geeta Bhawan trust society in Monga. It is Located on the Rishikesh road, the temple is the distinguished spiritual attraction of Haridwar featuring distinctive garbed idols and great mirror inlaid interiors. The most beautiful part of the temple is its intricately carved idols.

15. Anjani Devi Temple – Where Lord Hanuman's Mother Resides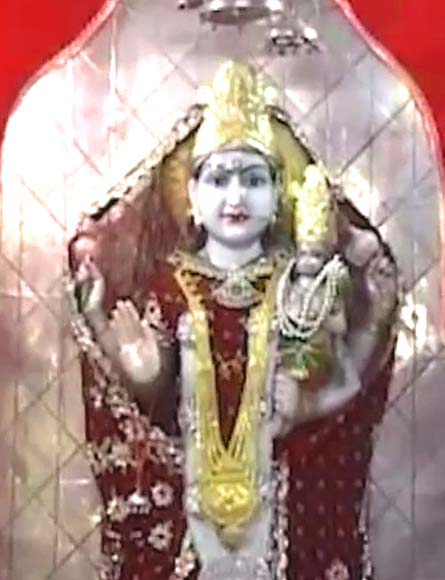 Anjani Devi Temple temple is dedicated to Lord Hanuman's divine mother, Anjani Devi. Anjani Devi Tapobhoomi(place of penance) is located on Neel Parvat in Haridwar. Anjani Devi temple is located on the hilltop in Haridwar Uttarakhand just near to Chandi Devi Temple. Hanuman's mother name was Anjani Devi or Anjana as mentioned in some Puranas. That's is why he is so called "Anjani Putra"(son of Anjani). Anjani Devi is one of the forms of other prominent Devi's who fulfills the desire of human beings. People worship Anjani Devi for emancipation from their sins and fulfillment of their desires. According to legend Anjana Devi was an apsara born on earth due to curse and married "Kesari" a Vanarraj(monkey king).

Haridwar is popularly known for its holy places and above there are some popular 15 temples where you can visit in 2021 to make your trip peaceful and complete.