Leh Ladakh, located in the northern section of Jammu & Kashmir, is a magnificent area nestled in the Himalayan foothills. 
This is also a region of extremes, with dunes colliding with white snow, dazzling blue lakes surrounded by bleak areas, and snowstorms swirling about you.
There are numerous treks available for the adventurer in you, as well as a beautiful temperature to add some mysterious charm to your wonderful vacation days. 
Apart from the quiet lakes, the white blanket of snow, and the beautiful Himalayas in the background, there's a lot more to this tough environment that you may not be aware of. We've put together a list of resources to help you learn more about this earthly paradise.
Let's find out some really interesting facts about Ladakh: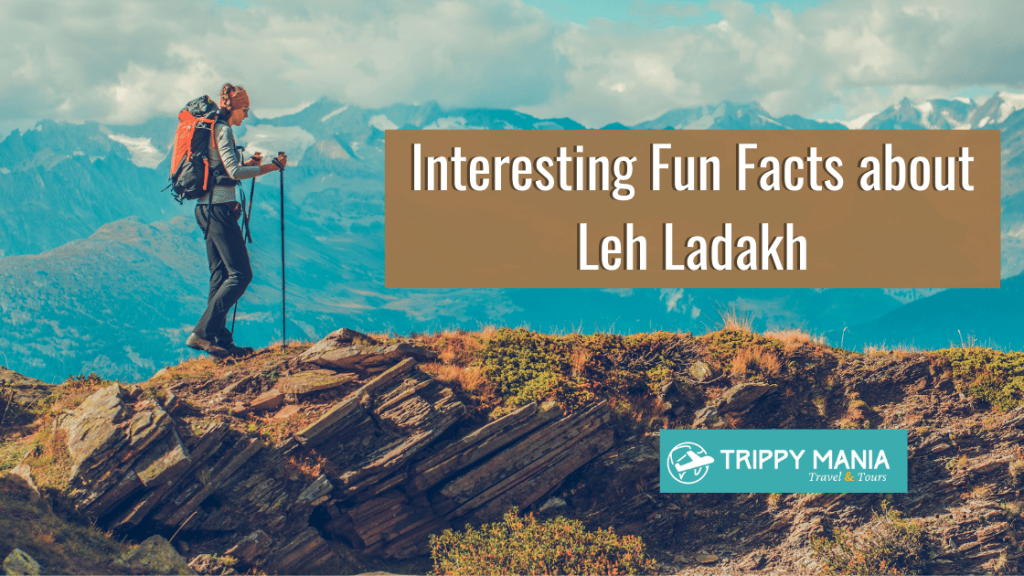 Cold desert with odd camels
Ladakh, India's highest plateau and coldest desert, is nestled high in the Himalayas. And where there's a desert, there's bound to be camels.
Bactrian camels, which have two humps on their hairy skin rather than the single-humped dromedary camels, also call this country home.
A ride on one of these will only add to your vacation bucket list of things to do. These camels are a popular attraction in this region's Nubra Valley.
An perfect location for mountain riding
How many stories have you heard or read about individuals going on a Ladakh biking trip? Do you want to go on an excursion like this? If you answered yes, then get on your bike and travel out to Ladakh's snowy slopes with your friends.
Not only that, but if you arrive in Ladakh by another mode of transportation and decide to miss your biking trip, you may rent mountain bikes upon arrival and enjoy pedaling around the snow-covered region with a breathtaking background to keep you company.
Just picturing this picture is enough to make you want to pack your belongings and leave.
How about some ice hockey
Lakes in Ladakh tend to freeze completely during the winter months when the snowfall is intense. This is a fantastic opportunity for folks to take advantage of.
Hockey, India's national sport, is popular during the winter months when locals come to play on frozen lakes and ponds. If you're a hockey lover, get out of the stands and play the game with your friends.
Climb the Magnetic Hill
If you drive a car, you know that shifting into the proper gear allows you to go faster. Keeping the car in neutral, on the other hand, causes it to become stationary. However, because Ladakh is a place of extremes, it follows the polar opposite rule.
When your automobile is in neutral, it will automatically start traveling upwards on the renowned Magnetic Hill. This incredible road, also known as 'Gravity Hill,' is located on the Leh-Kargil-Srinagar highway, roughly 30 kilometers from Leh. Isn't it strange enough?
See vibrant fauna at the world's largest national park
The Hemis National Park is the world's largest national park and home to snow leopards. Yaks, Bactrian camels, and marmots are just a few of the animals that may be found in the area. In this dry, bleak land, you'll also find more than 200 different animal species.
If you enjoy birds, there are over 225 species to choose from, including finches, robins, redstarts, and hoopoes. A visit to this high plateau will leave you in awe of the uncommon and beautiful wildlife that may be found there.
Go to the high grassland lake
Pangong Tso, which translates to 'high grassland' in Tibetan, is also known as the Pangong Lake. This lake, located at a height of 4350 metres in the Himalayan foothills, is a sight to behold. A scene from the smash blockbuster film '3 Idiots' was also shot here, and the memoir of which may be found surrounding the lake.
Apart from taking photographs of the beautiful lake, you will undoubtedly become caught in its strange beauty.
The only lunar scenery on Earth
Years ago, man's dream of visiting the moon came true when the first astronauts arrived on the magnificent planet that made the entire world proud. You can now share in that joy by travelling to Ladakh, where a community known as Lamayuru is a worldwide paradise.
This location boasts a flawless lunar landscape, which means that the soil here resembles that of the moon. The colour of the earth in Lamayuru, which is roughly 127 kilometres from Leh, resembles that of the moon.
Climbing up the neighbouring hill for a magnificent panoramic view of the surrounding environment is a great way to appreciate your visit to our land. The Lamayuru is also worth a visit.
The Land of the Glacier Man
Ladakh is home to a glacier specialist who mastered the technique of creating man-made glaciers. Chewang Norphel, a retired civil engineer, saw a little creek under the trees had frozen. After that, he became involved in waster shed development and built around 15 artificial glaciers.
He produced the world's largest glacier, which was over 1000 feet long and could support a settlement of 900 people.
Astronomical centre
Due to its elevation of more than 3000 metres, Ladakh boasts clear, pollution-free skies. The beautiful skies make it a haven for astronomers, who can take in the breathtaking sights at night.
In Ladakh, the Udaipur Solar Observatory and the 2-Meter Himalayan Chandra Optical and Infrared Telescopes are two of the most important Indian astronomy research facilities.
Kung-Fu nuns
India is doing everything it can to empower its women today. Ladakh is one such state where you may observe a huge number of females practising Kung-Fu in the Drukpa nunnery, as each state shares bits and pieces.
This self-empowering branch of Buddhist women's liberation promotes nuns to learn Kung-Fu while also allowing them to study and seek enlightenment on par with monks.
Conclusion
If these incredible facts about Ladakh have piqued your interest, make your reservations right away. Embark on one of the many excursions available in the area, or simply camp under the clear night skies and watch the stars put on a spectacular show.
During your stay there, you can travel from one expedition to the next, from bicycling to mountaineering to white water river rafting. Set your sights on the majestic Ladakh and prepare to embark on an adventure of a lifetime.