There are many tourist attractions to see in Bangalore. Bangalore is India's famous high-tech industry. Bangalore is well renowned for its parks and nightlife. Once you decide to visit Bangalore, ensure that you do not miss visiting any of these places as mentioned in this article because these are the best places to visit in Banglore. You will have a pleasant experience in Bangalore due to its friendly climate.
Best places to Visit in Bangalore
In this article, you will find the best places to do street shopping, eating, roaming around in Bangalore. Bangalore is a wonderful mixture of past and present.
Brigade Road near MG Road, Bangalore
If you are fond of shopping then this place is just meant for you. From clothing to home décor, you will find these products at an affordable price. The first place that comes in the list is Brigade Road which is located near MG road in Bangalore. This is one of the best places for street shopping in Bangalore where you can find affordable items with a long-lasting life and good quality. You will find Brigade road in the heart of CBD after exploring the place a little. You can easily find peddle export surplus clothing, affordable shoes and trendy jewelry. Be careful with the pricing as they can easily fool you by telling high prices, so use your bargaining skills to get items at a reasonable price. The place has many quick eating places like Starbucks or KFC where you can go to eat after shopping. 
Where: Shanthala Nagar, Ashok Nagar, Bengaluru

When: 10.00 am – 9.00 pm

What: Great bargains on apparel and accessories
Bangalore Palace
This place was built in 1878 and is an epitome of architecture. Once you visit here, you will be fond of the beauty of the palace. The walls and other carvings both inside and outside of the palace show the royal culture to its visitors. Different cultural events, rock shows, and marriages are performed here. You can see the lavish magnificence of one of the most powerful dynasties of South India.
Time Required:

 4 hours

Entry Fee :

 Indian: INR 230, Foreigner: INR 460

Timings :

 10:00 AM – 5:30 PM
Commercial Street, Bangalore
If you want to find everything from embroidered bridal blouses, gowns and dress material to stylish western wear, jewellery, books and shoes on the adjacent Shoe Lane, then Commercial Street is the best place for you. The place is also known as 'Comm Street'.
Where

: Tasker Town, Shivaji Nagar, Bengaluru

When

: 10.30 am – 8.00 pm

What

: Apparel, unstitched fabric, jewelry 
Jayanagar 4th Block, Bangalore
Jayanagar's 4th Block Market is for people who want to change their wardrobe by keeping most of the money. This is one of the great places for garments shopping. You will find a large heap of clothes outside the market complex's building for as little as Rs. 100 in most of the cases. This place is one of the oldest markets in Bangalore for stylish season-ready apparel and a huge array of shoes; sliders, juttis or strappy sandals. All kinds of funky jewellery, pottery and artwork are well renowned in this market. 
Where

: 4th Block, Jayanagar, Bengaluru

When

: 10 am – 1.30 pm, 4.00 pm – 8.30 pm

What

: Clothing and shoes
Lal Bagh
This is a famous centre for botanical artwork, the scientific study of plants and also conservation of plants both nationally and internationally. If you are a nature lover then you must visit this place. Rare plants of French, Persian and Afghanis can be seen in this garden. 
Timings :

 6:00 AM – 7:00 PM

Entry Fee :

 Adults: INR 25 (After 8:00 AM)




Children below 12 Years: Free
Chickpet Market, Bangalore
https://www.youtube.com/watch?v=oiW7YEHTfr0
Chickpet is the oldest shopping area in Bangalore and it is a 400-year-old market. This place is very famous for sarees, opulent Kanjeevarams, Mysore silks, Benarsis, tussars and even breezy crepes and chiffons. If any wedding or special occasion is coming up then you can go here with your family for shopping. The place is well known for pre-stitched anarkalis, designer lehengas and rich dress material.
Where

: Chickpet

When

: 10.00 am – 9.00 pm

What

: Sarees, festive outfits
Cubbon Park
To experience greenery and have a beautiful scenic view, you must visit Cubbon park. This is an ideal place for nature lovers. More than 6000 trees are planted in this park and you can even get your photographs clicked in this park. Cubbon Park Museum and Sheshadri Iyer Memorial Park are also situated here. The second-largest aquarium of India known as The Bangalore Aquarium is the famous attraction of this park.
Timings :

 6:00 AM – 6:00 PM 

Closed on Mondays and second Tuesdays of every month.

Strictly for morning walkers: 6:00 AM – 8:00 AM

Time Required : 1 – 2 hours
Entry Fee :

 Free
Avenue Street, Bangalore
To delight all the bookworms, there is a place called avenue market where you can find an endless number of books. All genre and languages of books are available here in street-side bookstalls and bookshops. 
Where

: Avenue Road, Bengaluru

When

: Morning till evening

What

: Old books, Xeroxed college notes (bet you didn't know that!)
UB City Mall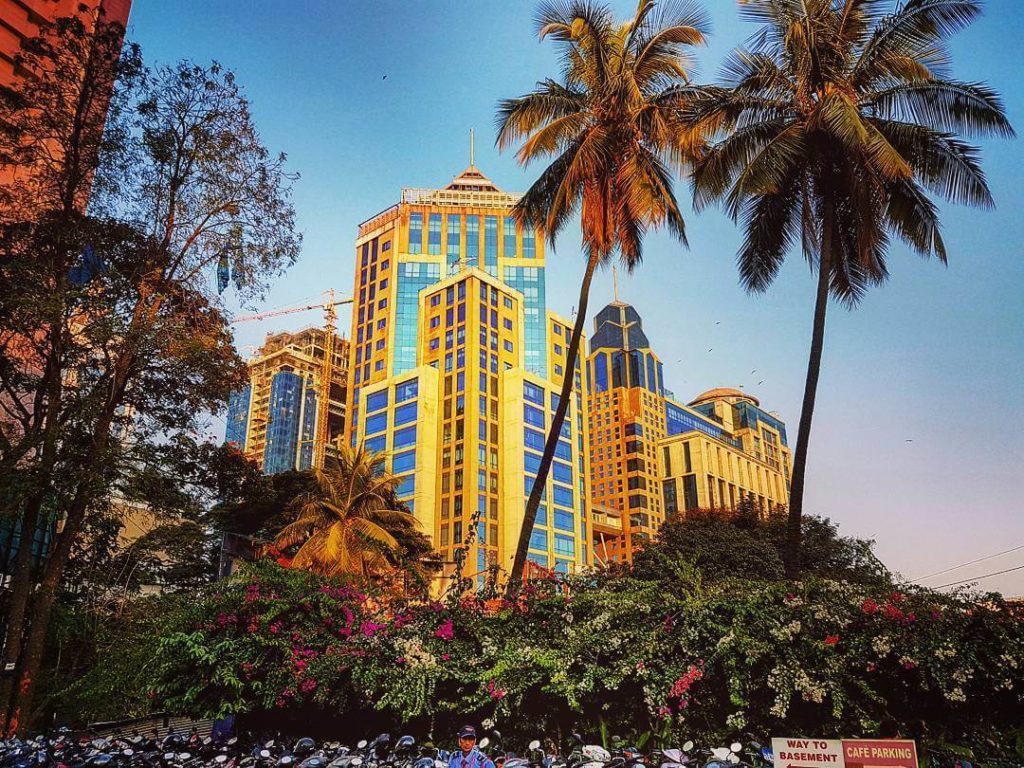 If you are a shopaholic, then you should definitely visit this mall. You will find all the brands here to do shopping. It has PVR also where you can enjoy a movie show and a big food court with umpteen eateries. You can also have a spa session here after a long tiring day. 
Wonder La Water Park
Wonder la is the best amusement park in Bangalore and it is also known to be the best amusement park in India. It has all sort of rides from high-risk rides to the relaxed, fun rides to take care of all age groups of visitors. India's first "reverse looping roller coaster" – a coaster which you do in both directions, once straight and once in reverse order was constructed here. 
Time Required : 4-5 hours
Residency Road, Bangalore
If you are fond of exquisite handicrafts, Hand-carved wood artefacts, traditional jewellery, brassware for your home, then this place is made just for you. The wares at Residency Market will amaze you. You can also look out Utkalika emporium for precious work from Orissa. 
Where

: Ashok Nagar, Bengaluru

When

: 10.00 am – 10.00 pm

What

: Handcrafted products
ISKCON Temple Banglore
You will find ISKON temple which is one of the several chain temples spread all over the country and across the world. This peaceful temple is devoted to Lord Krishna and Radha and people from abroad to visit here to have blessings of Lord Krishna.
Timings : Darshan Timings: 4:15AM – 5:00 AM, 7:15AM – 1:00 PM and 4:00 PM – 8:30 PM
Ulsoor Lake
It is one of the largest lakes in Bangalore and it is very magnificent and beautiful lake. You will fall in love with the peace that you will get here. It is also an important venue for the celebration of Ganesh Chaturthi. You can experience fantastic boating here at this lake as the lake is sprawled all over 50 hectares. 
Timings :

 6:00 AM – 8:00 PM; Wednesday closed

Entry Fee :

 No entry fee
Indiranagar Market
If you wish to see real nightlife of Bangalore then you must visit Indrinagar Market as this shopping hub is open both during day and night. You can buy fashionable party clothes. This place is home to various fashion stores with international and indie labels. 
Timing: 11 AM to 11 PM
So these were all the best places that you must visit when you plan your visit to Bangalore. These are the favouite tourist destinations.