Delhi is the Capital of India. There are so many places to visit in Delhi where you can have a visit. You will enjoy both night life as well as day life fully here. You will find all types of places here such as monuments, clubs, malls, temples, amusement parks and many more. In this article, you will see all the places that you must visit, once you plan your trip to Delhi.
Top 14 Delhi Attractions and Places to Visit
Qutub Minar
Qutub Minar is the tallest individual tower in the whole world. It was started by Qutb Ud-Din-Aibak who was the founder of Delhi. Here you will get to know the rich history of India. You will have a glance at a beautiful view once you reach on the top of the tower. You will be bewitched by all the carvings on the tower. 
Timings : 10:00 AM – 5:00 PM
Entry Fee : Indians: INR 10, 
Foreign tourists: INR 250
Red Fort
Red Fort is another beautiful monument Of New Delhi. It was named red fort because of all the red stones it was built with. It was built by Shah Jahan and was residence to Mughal emperors. It is a major attraction of Delhi because of heritage and history associated with it. Red fort lies along the bank of river Yamuna. You will get to know about history here and you can also have some good pictures here. 
Timings : 7:00 AM – 5:30 PM, Except on Mondays
Entry Fee : Indian Citizens, citizens of SAARC and BIMSTEC nations: INR 10, Other foreigners: INR 250.
Hauz Khas Village
Hauz Khas Village is a well maintained reservoir with beautiful buildings and park alongside. You will find so many restaurants, cafes and clubs here to hang out. Moreover there are various art galleries, game zones and boutiques. You can see a lot of live music events and stand- up comedy here and you can come here for party with your friends. 
Timings : Hauz Khas Village Complex: 10:30 – 19:00
India Gate
India Gate was built as a war memorial for all the 70000 soldiers that were killed during the First World War and afghan war. The names of all the soldiers are engraved on India gate. You can pay respect at Amar Jawan Jyoti and can relax in peaceful surroundings.
Swaminarayan Akshardham Temple
It is the world's largest Hindu temple. It is built so beautifully that you will feel like you are in heaven. This is a must places to visit in New Delhi if you love to know about culture, heritage of India. You can go to a show and after that you can have a boat that takes you to the exhibition showing customs and traditions followed in India. There is also a musical fountain show that you can enjoy later on.
Timings : All days of the week except Monday: 10 AM – 8 PM,
Ticket counters close at 6 PM
Chandni chowk
Chandni Chowk is one of the busiest and oldest market of Delhi and it is located in old Delhi. You will find very amazing shop for ethnic wear here. There are shops where you can find lehanga's ,sarees and gowns and all other ethnic wear here at reasonable price. You can find different cuisines of all street sellers here that just taste awesome. You can also go to Parantha vali gali to have different variety of paranthas. 
Lotus Temple 
Bahai temple is known as lotus temple because of its resemblance to the lotus flower. This place is very serene and open up for meditation. There are nine pools of water around petals which is worth to watch at dusk. 
Time Required : 45 minutes – 1 hour
Entry Fee : Free
Connaught Place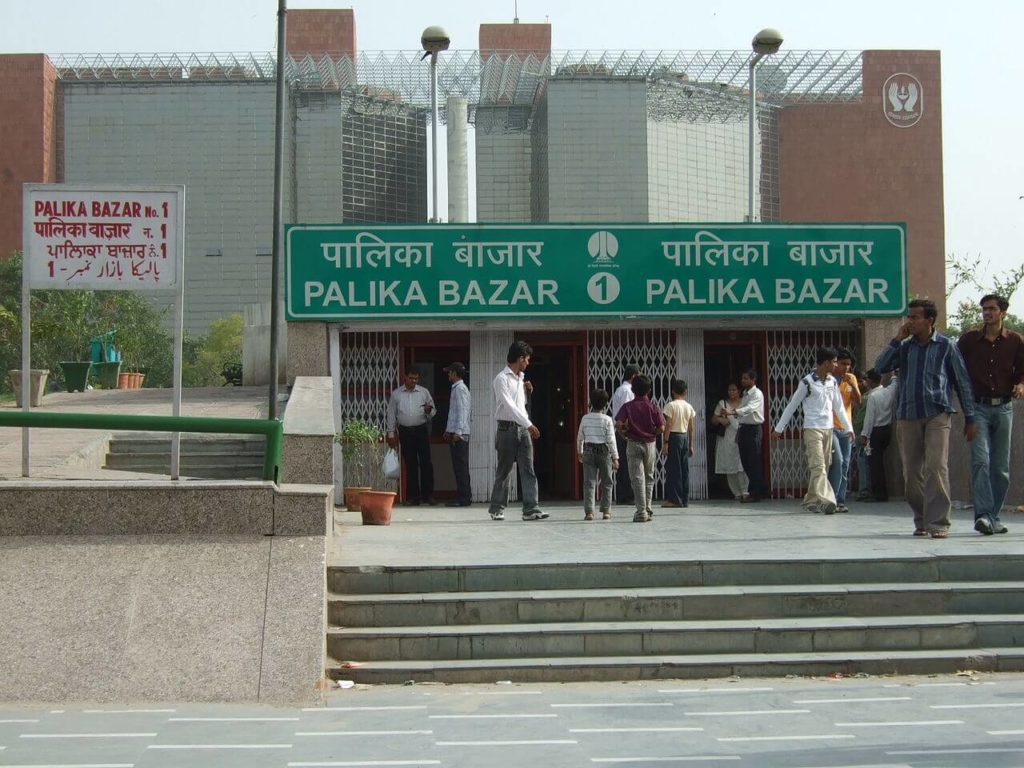 Connaught Place is a commercial and financial centre in New Delhi. Delhi's first ice cream parlour, first toy store and first art gallery were all opened at this place. It is always filled up with people. This is another must of places to visit in Delhi. You can go to various shops to do shopping and there is Janpath market just near to it where you can do street shopping. A very famous Gurudwara named ' Bangla Sahib' is located in CP where you can go to experience peaceful environment.
ISKON temple 
You will find ISKON temple which is one of the several of chain temples spread all over the country and across the world. This peaceful temple is devoted to lord Krishna and Radha and people from abroad to visit here to have blessings of Lord Krishna.
Khan Market
Khan Market is one of the costliest and oldest markets in Delhi. From the showrooms of the best brands to the restaurants providing lip smacking food; the retail location is a paradise for both shopaholics and foodies.  It is the most posh and classy place for shopping in Delhi.
Humayun's Tomb
Humayun's Tomb is a final resting place of the Mughal emperor. It is situated on banks of Yamuna. It was once featured in UNESCO's World heritage list. It was built by queen Haji Begum. The monument displays the great architecture and displays inspiration of Persian architecture. The world famous monument named Taj Mahal is resembled to this great tomb. 
Entry Fee : Indians – INR 10, Foreigners – INR 250. Video filming – INR 25, Photography – Free
Timings : 10:00 AM – 06:00 PM
Lodi Gardens 
If you have a peaceful environment, then you can go here. Lodi garden was built in 1936 by British. You can have a quiet day escaping from the busiest city life. You can have a look at various monuments that are situated in the gardens. Also the National Bonsai Park is another beautiful tourist attraction.
Timings : 6:00 AM – 7:30 PM
Time Required : 1-2 hrs
Entry Fee : Free
Rashtrapati Bhavan
Rashtrapati Bhavan is the official residence of the President of India. It was originally built with the intent of serving as the Viceroy's House. With its 340 rooms in the main building covering 5 acres on an estate of 330 acres, it is one of the largest residences of any head of the state in the world. You can have a tour of Rashtrapati bhavan complex. And you can also visit Mughal Gardens here which is very mesmerizing. You can see different variety and sizes of flowers here which is worth to watch.
Timings : 9:00 AM – 4:00 PM (Only on Friday, Saturday and Sunday)
Time Required : 3 hours
Entry Fee : INR 50, (Children under 8 years are exempted from the registration fee)
Rail Museum
Rail Museum was built to preserve the 163 years old railway heritage of India. here you will see collection of around 100 real size exhibits of Indian railways both working and static, antiques, furniture. Some rails here also offer rides to both adults and children. There is a restaurant also inside it where you can eat your meal with a small train moving around your table. 
Timings : 10:00 AM – 5:00 PM (Entry closes after 4:30 PM) 
Closed on Mondays
Time Required : 2 – 3 hrs
Also recommended:
So these were all the best places that you must visit when you plan your visit to Delhi. These are the favouite tourist destinations.