In Sanskrit, Meghalaya means "abode in clouds." Meghalaya, as its name suggests, is one of Northeast India's most beautiful untouched and unexplored paradise states, where the clouds sit on the surface and kiss your lips.
It is encircled by the Khasi, Jaintia, and Garo mountains, which run along with the valley's breadth and highland plateaus.
Meghalaya has numerous rivers, most of which are rainfed and seasonal, resulting in steep gorges and numerous magnificent waterfalls.
It is a land of great diversity, home to several tribes such as the Khasis, Jaintias, and Garos, each with its own culture, traditions, clothing, and language.
Read on to learn why you'll be sorry you didn't go.
There are 9 reasons why Meghalaya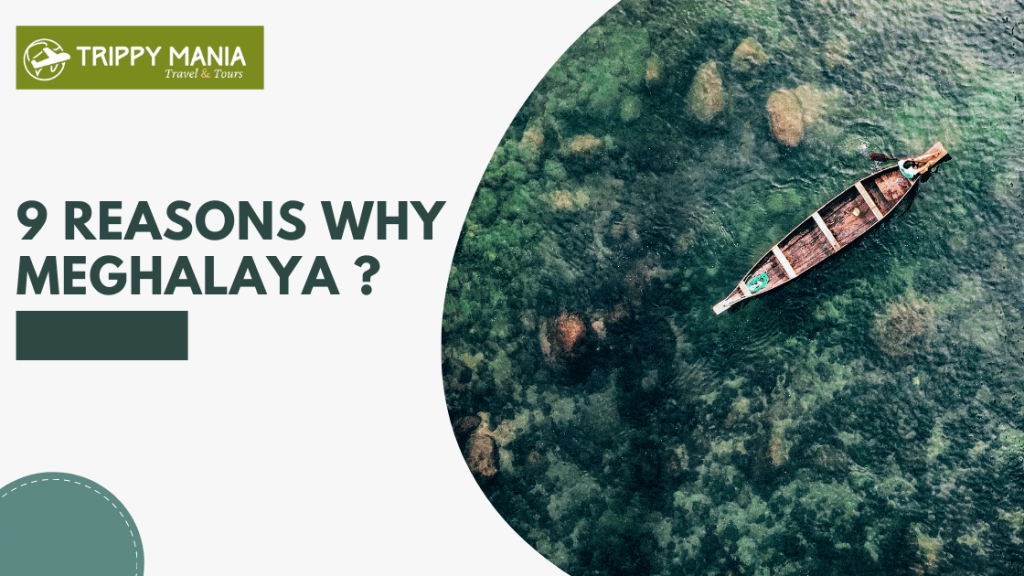 Why choose Meghalaya?
Beautiful Waterfalls
Some of the country's most unique and magnificent unexplored waterfalls may be found in Meghalaya. The Nohkalikai Falls, located near Cherrapunji, one of the world's wettest regions, is India's tallest waterfalls. Another enthralling waterfall is the Nohsngithiang Falls, commonly known as the Seven Sisters Falls.
The waterfall is illuminated at sunset, and the brilliant hues add to the splendor of the setting sun on the cascade. Elephant Falls, in Shillong, is said to be shaped like an elephant and is surrounded by lush flora.
Kynrem Falls, Shadthum Falls, Weenie Falls, Bishop Falls, Langshiang Falls, and Sweet Falls are among the state's other notable waterfalls.
Clear Rivers
Take a trip to the Land of the Flying Boats. When looking for a clean river in India, the Umngot River in Dawki, Meghalaya is the sole option.
It is so clear that it is not only the cleanest river but also a beautiful river that divides the Juanita and Khasi hills and runs into Bangladesh through Dawki.
Root Bridges
The living bridge in Meghalaya is a significant feature of the state. In the Meghalaya region, Khasi and Jaintia people make bridges out of the aerial roots of rubber trees to span rivers.
The settlements of the Nongriat, Nongthymmai, Menteng, and Tynrong have several root bridges.
Shillong, sometimes known as the "Scotland of the East," is a city in northeast India
The state capital of Meghalaya is a lovely hill station surrounded by pine trees, with a pleasant climate that allows visitors to visit at any time of year.
Starting with Umiam Lake, a lovely lake north of Shillong that is known for water sports and adventures, there are many locations to explore in Shillong.
The Don Bosco Museum is a significant tourist attraction in Shillong that sheds light on the indigenous peoples of North East India's rich and multi-cultural existence.
Nongriat Village
Nongriat is a unique location in Meghalaya because it combines two of the state's most popular attractions. The double-decker living root bridge and the Rainbow Fall, which is one of the most stunning waterfalls, are also worth seeing, but getting to Nongriat village is difficult for the faint of heart.
The journey begins in Tryna village, where the road to the hamlet is a tiered stairway passing across two suspension bridges in the deep forest.
Low Lying Mist
Meghalaya is a state in India that means "abode of clouds." When you visit the location, you will notice clouds in your hands, on your face, and all around you, making you comprehend the full significance of the location.
The mist follows you about, hiding the wonderful scenic landscapes and waterfalls, but when it clears for a few moments, it transforms into a magical fantasy.
Friendly People
This region is home to three tribal communities: Khasi, Jaintia, and Garo, each with its unique festivals and customs.
The people of Meghalaya are incredibly kind and treat you as if you were a member of their family.
Cute Houses
Beautiful bamboo huts and cottages may be found in Meghalaya. These huts are incredible, and everything inside is made of bamboo and is extremely basic, giving you the sensation of living in a hamlet and being closer to nature.
There are numerous activities in which you might enjoy yourself.
Cleanest Village in Asia
Mawlynmong, a small village in Meghalaya, has been named the "Cleanest Village in Asia." It is a wonderland located about 4-5 hours from Shillong. Mawlynmong, like Cherapunjee, has its own live root bridge, though it is only one layer.
The village also has a view of a natural balancing rock. The people of Mawlynmong are exceptionally fluent in English, and the community has a 100% literacy rate.
Conclusion:
Meghalaya is a beautiful place and you should visit it there. These 9 reasons why Meghalaya? Meghalaya has everything you must visit for. This is such an amazing place to go on a trip with family and friends.