Himachal Pradesh is famous for its beautiful views as well as adventure activities, such as treks, paragliding, skiing and so much more. This place is popular as a holiday destination with your loved ones.
As our topic indicates about trekking, so today we explore Trekking. It is an outdoor activity of walking for more than a day. It is a form of walking, undertaken with the specific purpose of exploring and enjoying the scenery. Trekking could be a motive, It could be a commitment, an aim, an objective, a mission, a party, a social gathering.
The Top 10 Trekking place in Himachal Pradesh are-
Triund Trek, Mcleodganj; Himachal Pradesh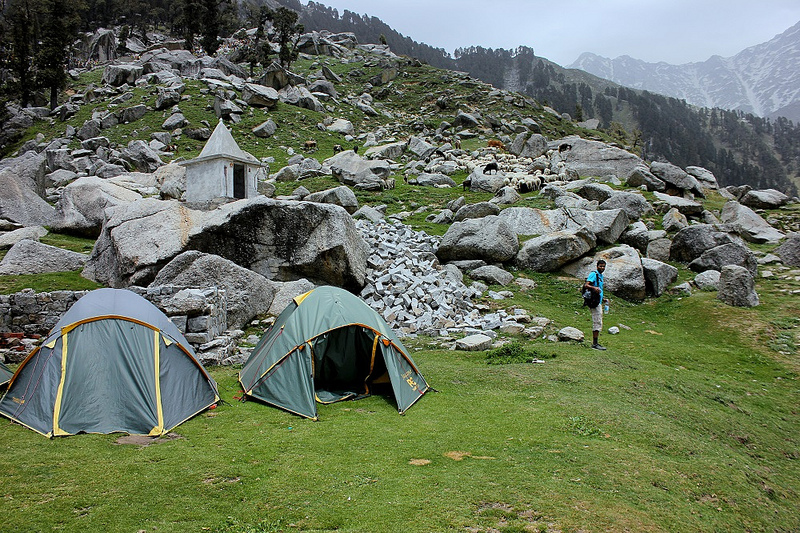 Relaxing Camping under the stars and a warming bonfire is the best combination of attractions of Dhauladhar. The scenery of Triund offers worth sightseeing especially at night. This trek of a day journey is popular with the name Little Lhasa as it comprises a huge Tibetan population. If you want to go solo, or in a group, it is one of the best trending destinations in India where you can reach here without too much sweat dripping from your body. It has a simple trekking route.
2. Hampta Pass Trek, Manali; Himachal Pradesh.
Packed with shepherds and a bunch of trekkers, Hampta Pass Trek got the name from Hampta village that locates in the Pir Panjal Region almost at a height of 14,000 feet. The journey to pass begins from Kullu Manali Valley and then takes you to the peak of Chandra Valley of Lahaul. The oak and walnut trees along your way to trek will add magnificence to your sight. It has an easy to moderate route of trekking.
3.Bhrigu Lake Trek, Manali; Himachal Pradesh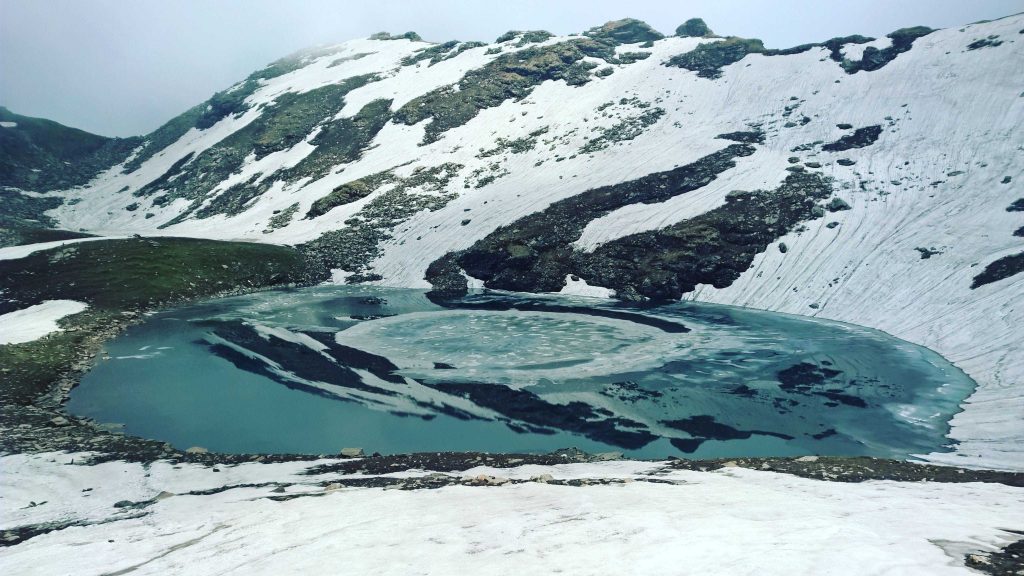 If you are a beginner in Trekking In Himachal Pradesh, then Bhrigu Lake Trek is a perfect choice for you. No other trek can take you to the fascinating peak merely in two days than Bhrigu Trek. Also, you must know that this place has been the home to Bhrigu Maharishi and people feel blessed to reach there. Before moving, make sure you can trek the steep trails and do not get afraid of them. Apart from that, you must visit this Bhrigu lake before June as it starts freezing in mid of that month.
4. Indrahar Pass Trek, Dharmshala; Himachal Pradesh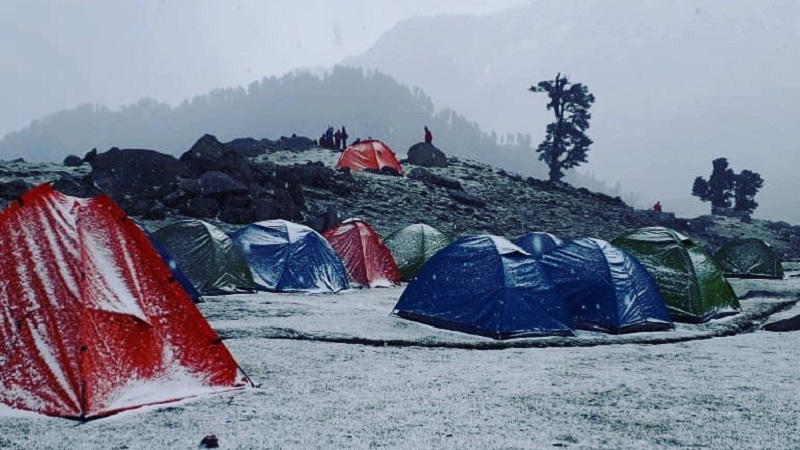 Among the trekking routes from Dharmshala, Indrahar Pass trek is one of the most popular places under Himachal Pradesh tourism. It begins from the Kangra Valley and takes you to the Ravi river basin while endowing you with the fascinating beauty of Dhauladhar ranges on your way. The thing that you are going to love the most is the trail comprising snow bridges, snaky streams of mountains, and also, the deodar trees.
5.Prashar Lake Trek, Mandi; Himachal Pradesh
Unveiling the beauty of Dhauladhar ranges in an extremely different and spectacular way, Prashar Lake trek endows trekkers with 180 degrees views of the Kinnaur and Pir Panjal ranges of mountains. There are two routes to Prashar Lake, one that passes through Jwalpur village and another that takes through Baggi village. If you want an easy option then go for the Jwalpur village path and enjoy perfect winter snow trekking there.
6. Beas Kund Trek, Manali; Himachal Pradesh.
Fortunately, if you are just entering the world of trekking, this 3-days trek to Beas Kund is a perfect choice for you. To enjoy the natural beauty of the Dhauladhar ranges, you can effortlessly cover this trek of 15 to 17 km in a short period regardless of your age. This trek will take you to one of the best places to visit in India where the Beas river originates and it will be worth watching.
7. Malana Village Trek, Kasol; Himachal Pradesh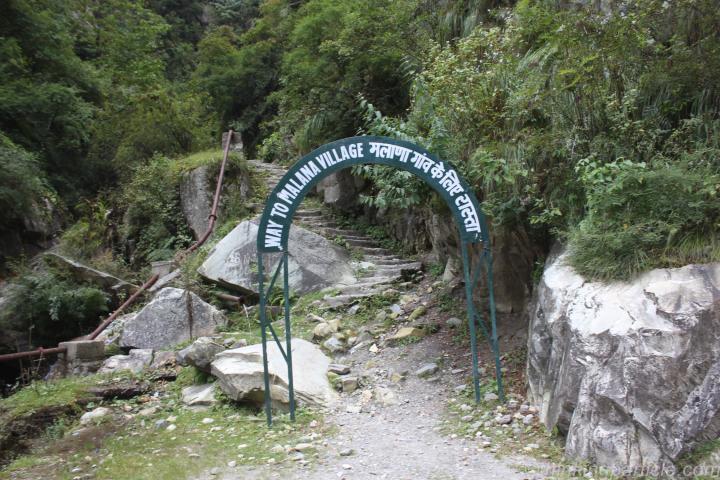 A peaceful walk begins from Kasol to Malana Village will take you through the narrow curvy paths. While cutting the heart of hills, you will complete the 4-km trek to Malana almost in 6 days. You will love the foggy mornings and chilling mountain air that keeps refreshing you from trekking.
8. Pin Parvati Pass Trek, Spiti; Himachal Pradesh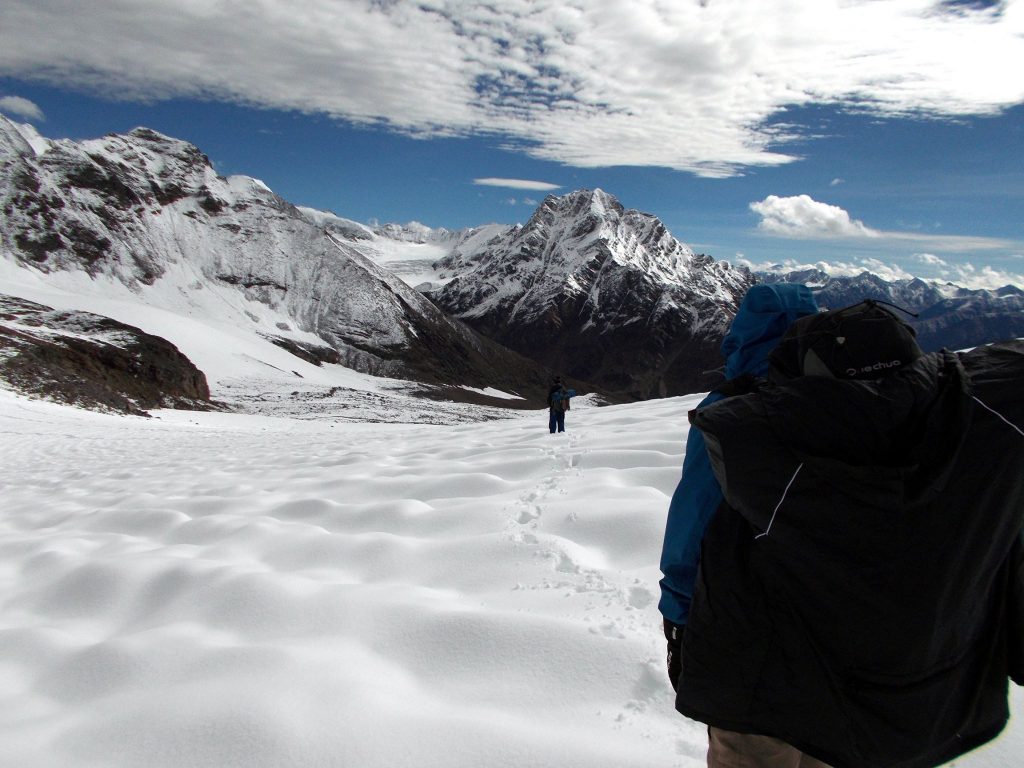 If you are bored with the easy and moderate treks, then Pin Parvati Pass Trek is an ideal trek for you. While passing through the snowy landscapes, and beautiful views of trekking; it take almost 9 days to complete this trek. It checks your endurance and stamina but the pleasant journey to trek worth your applied strength. At the peak of this valley, you will witness Buddhist monasteries named Tabo and Ki Gompo where Kullu and Spiti valleys hug each other. Make sure you are mentally prepared before you begin the journey to 16,000 ft. high mountains.
9. Sar Pass Trek, Kasol; Himachal Pradesh
One of the most challenging Himachal Pradesh Trekking Tours, Sar Pass Trek endows the visitors with breathtaking views of the Himalayas. The snow-laden mountains and the alluring landscapes make the trek pleasant. Here, you get a trial of deodar and pine trees along with the meadows blooming with vibrant flowers. This trek adds magic to your moments and makes your tour a cheerful one. After exploring the spectacular landscapes of Himachal Pradesh through these treks, you witness the real beauty of nature. If you want to know about a plethora of holiday places in India then exploring do trip is the best choice.
10. Kheerganga trek, Himachal Pradesh.
Kheer Ganga (3050 meters) lies at the end of Parvati valley. Kheerganga shows panoramic skies and wonderful greenery which are delightful to the trekker's eyes and especially to the tired legs. It is a holy place with a hot water spring, a small temple of Lord Shiva, and a bathing tank. It makes a rare combination for any trekker to bath in hot spring water when everything is covered by snow.
To make your trekking easy and comfortable so just Grab your packages from www.trippymania.com for the best experience and pocket-friendly budget. We are open for you 24×7!!