Darjeeling, in the Indian state of West Bengal, is famous for its tea business. The city is situated in the Mahabharat Range, which is part of the lower Himalayas. The town was created by the British in the mid-nineteenth century, and it quickly became recognised for its extensive tea farms, which produce the best tea in the country.
The city was ruled by the Sikkim kingdom till it was conquered by the Gorkhas and then the British. The town is in the eastern Himalayan Zoo-geographic zone and sits at an average elevation of 2050 metres.
The town is endowed with a rich cultural history and natural resources and is a year-round destination due to its comfortable temperature.
9 reasons why Darjeeling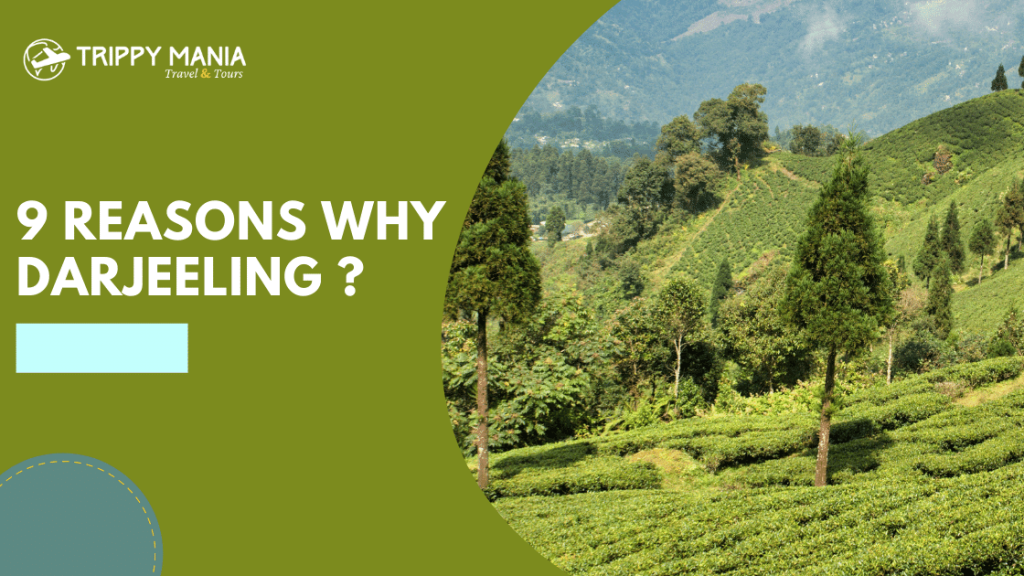 1. Darjeeling Himalayan Railway (DHR)
The Darjeeling Himalayan Railway (DHR), often known as the 'Toy Train,' is Darjeeling's most famous attraction. It is a 2ft wide narrow gauge rail that runs between Darjeeling and Jalpaiguri and was constructed between 1879 and 1881.
The Darjeeling Himalayan Railway was designated a World Heritage Site by UNESCO in 1999, making it the world's second railway after the Semmering Railway in Austria.
2. Singalila National Park
Singalila National Park is located among West Bengal's highest highlands, at an elevation of approximately 2134 metres above sea level. The park is recognized for its spectacular peaks and panoramic vistas of the smaller Himalayan range.
With a diverse range of highland vegetation, fauna, and birds, the National Park is known as a trekker's paradise.
Red Pandas, Black Bears, Leopards, Tigers, Clouded Leopards, Serows, Leopard Cats, Barking Deer, Yellow-throated Martens, Wild Boars, Pangolins, and Takins are among the rare and endangered species found in the area.
See : 10 Best Restaurants In Darjeeling for couples
3. Padmaja Naidu Himalayan Zoological Park
The Padmaja Naidu Himalayan Zoological Park is 67.56 acres in size and is known for its outstanding Red Panda and Snow Leopard breeding program.
The zoo is India's greatest high-altitude zoo, with an average elevation of 2,134 meters above sea level. Snow leopards, red pandas, Himalayan Salamanders, Tibetan wolf, Himalayan mountain goat, and Siberian tigers are among the zoo's rare and endangered species.
4. Tiger Hill
One of Darjeeling's most well-known summits can be accessed by jeep or on foot, passing through some of Darjeeling's oldest tea plantations.
The area is most known for trekking, and its summits provide some of the most breathtaking views of Kanchendzonga and the monolithic Mt. Everest.
5. Hill of the Observatory
Observatory Hill, near Chowrarasta Square, is a popular tourist destination and viewpoint in Darjeeling. The site is known for its spectacular views of Kanchendzonga and the historic Mahakaal (Lord Shiva) temple.
6. Batasia Loop
When the famed 'Toy Train' makes its journey across a looped track that passes through various gorgeous parks, Batasia Loop can be visited.
The location is well-known for holding a Gorkha war memorial, and the toy railway provides a 360-degree panorama of Darjeeling.
In its 1,000-foot-high fall, the loop encompasses 50,000 square feet and spirals into tunnels, landscaped parks, and hillocks. A trip to the nearby local crafts market is a must.
7. Happy Valley Tea Estate
The Happy Valley Tea Estate, which spans 437 acres and sits at an elevation of 2,100 meters above sea level, is one of Darjeeling's most popular tourist destinations.
The location is surrounded by some of India's most breathtaking scenery. It also boasts one of the world's tallest tea factories, which was founded by an Englishman in 1854 and then taken over by an Indian nobility from Hoogly.
8. Joey's Pub
Joey's Pub is the place to go if you want to unwind after a long day of travelling. It is an English-style bar that was founded in 1948 and is one of India's most popular tourist destinations.
Make a point of stopping by the bar for some reasonably priced beverages and munchies while listening to some light vintage rock and blues in the background.
9. Pagoda of Peace
The Japanese Peace Pagoda, which was built between 1885 and 1985 by a Japanese Buddhist monk named Nichidatsu Fuji, is one of 30 such monuments around the world.
The Buddhist shrine is created in a lovely white edifice with golden coloured sculptures and is situated in some truly tempting areas. The structure is 23 square metres broad and 28.5 square metres long.
Conclusion
Darjeeling is one of West Bengal's most popular tourist destinations, with a pleasant climate all year. These are the 9 reasons why Darjeeling. Darjeeling is a notable hill station town in India because of the culture it has collected through the years under numerous rulers.