Marriage is one of the most important life events in India. A vast number of people participate in this important occasion, from family members to friends of family members and friends of friends. Aside from being lavish on the conventional front, Indian weddings can also be inexpensive.
The couples and their families aren't scared to splurge on a lavish Indian wedding that will undoubtedly leave everyone with fond memories. The destination weddings in Udaipur are also generating a lot of interest.
Udaipur, known as the "Venice of the East," creates a magnificent atmosphere with its stunning surroundings and royal traditions.
9 reasons why Udaipur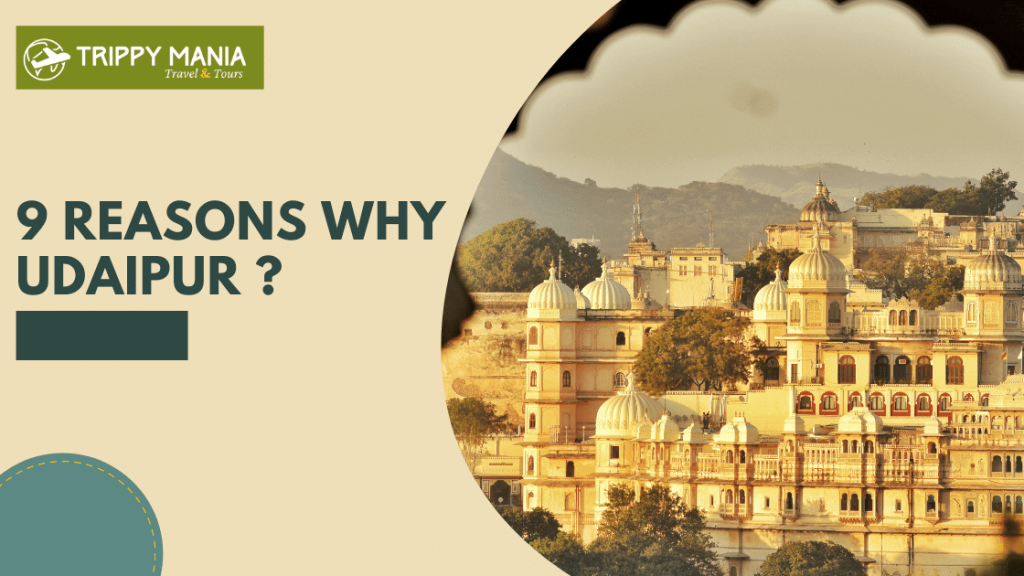 1. The 'Kind of Wedding' You Want
Getting married is a joyous occasion. Many people, though, will relate to the anxiousness they felt while preparing it.
Place all of your worries about this life event in the hands of your Udaipur destination wedding coordinators. Depending on the prowess of your wedding planners, you can simply organise any size wedding, big or small.
Many lovely, affordable properties have popped up over the years, ready to host once-in-a-lifetime celebrations.
See : 10 Best Restaurants In Udaipur for couples
2. Romance abounds in the city
Udaipur is nothing short of a dream, with its spectacular sunset views, diverse lakefront settings, wonderful ancient buildings, and natural, calming emotions. Udaipur is India's most romantic city, and it's a true lovers' paradise.
3. The Beautiful Weather
The city's wonderful weather is something that all Udaipur residents will agree on. Summers aren't too hot, thanks to the cool evenings, and winters aren't too chilly. And what about monsoons?
They're fantastic! You can organise your dream wedding without worry because the weather is more or less pleasant throughout the year. Despite the popular assumption that Rajasthan is an arid desert, the city of Udaipur consistently has beautiful weather.
4. Waters of Serenity Surrounding You
What about exchanging vows in the middle of the lake? It is going to be great! On this particular day, these peaceful waters will put you in the perfect frame of mind.
Wedding planners in Udaipur support you and offer wonderful services so that you have a beautiful wedding scenario, whether it's taking a boat to the wedding destination with your partner or simply you, relishing the memorable moments in the midst of festivities.
5. Luxurious Accommodations
Some of the most prestigious luxury hotels in Udaipur have proven to be perfect sites for high-end weddings.
The Leela Palace and The Oberoi Udaivilas, for example, have already been honoured by Tourism + Leisure, a major travel publication.
6. Take pleasure in the splendour of the Royal Court
Everyone is aware of the city's rich historical background. This realm of royal kings and queens still exudes the same opulence as it did in the past. Many of the ancestral houses and buildings have been converted into hotels, making them ideal for commemorating a royal wedding.
Furthermore, Udaipur's destination wedding planners have the talent and resources to make you feel like royalty. Feel like a Maharaja and Maharani as you combine in love and invite your guests to partake in the exquisite celebrations.
7. Tasty Regional Cuisine
At any wedding, the food is a cause for celebration. If the food is wonderful, it not only amazes the guests, but it also makes a lasting impression on others about your wedding. Rajasthani cuisine, which has a lot of spice, is likely to blow people's heads with its outstanding flavours and soulful presentation.
Whatever your desire is, whether it's Daal Baati Churma, Gatte ki Sabzi, Ker Saangri, Laal Maas, or Mohan Maas, your wedding planners in Udaipur will make every effort to accommodate you. On your big day, sample some of the most spectacular local dishes.
Also, tell your Udaipur wedding planners about your favourite flavours from another city or country, and they will not disappoint.
8. Celebrity Wedding Mecca
Who wouldn't want to be the centre of attention at their wedding? When several celebrities and business tycoons chose Udaipur for their larger-than-life weddings, this became true for the genuine stars themselves.
Remember when Neil Nitin Mukesh's lavish wedding was covered? Many other celebrities, including Puru Sethia, Sanjay Hinduja, and Raveena Tandon, have had destination weddings in Udaipur, one of the world's most fascinating cities.
9. You're well-connected
It is critical that a wedding destination be reachable by plane, train, or bus. Destination weddings in Udaipur will be much more enjoyable if your guests arrive on schedule.
See also :
Conclusion
Are you picturing your lavish wedding set against a lake or in a royal palace? Udaipur is a wonderful wedding venue that caters to your needs in a variety of ways. These are the 9 reasons why Udaipur.
If you're planning a wedding in the near future, think about having a destination wedding in Udaipur. Share the concept with your partner and enjoy your wedding celebrations at one of India's most beautiful and welcoming cities.