Indians rarely consider organizing a trip to enjoy India's glorious monsoon showers or even looking for places to visit in India during the monsoon season.
They don't comprehend how beneficial these rains are to the country. The way the entire area transforms into a magnificent beauty and calm environment is a scene straight out of a movie.
10 Most Beautiful Places To Visit in Monsoon in India are as follows: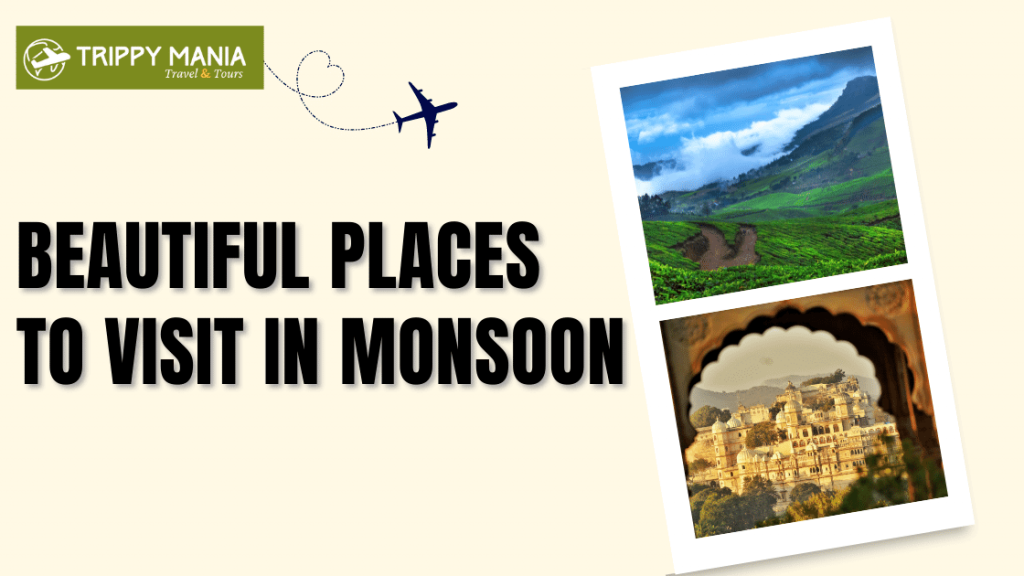 Besotted With Munnar
Munnar is the ideal location for a romantic trip and a Bollywood-style rain adventure! Munnar is a place for everyone, whether you are a wildlife enthusiast, a family tourist, an adventurer, or a nature lover.
This gorgeous place in Kerala, India, has a lot to offer and should be on your list of places to visit if you're looking for places to visit in India. In these lush green valleys and cloud-covered hills, you may do everything from walking to bird-watching to having a family picnic.
See : 10 Best Places to Visit in Munnar
The Forest's Gift – Kodaikanal
Tamil Nadu, another picturesque hill station in South India, is one of the most attractive places to visit in India during the monsoon season. You may experience beautiful beauty in all of its forms, from trekking to cycling to sightseeing.
During the rainy season, this little town offers a gorgeous trail to explore. The waterfalls are a must-see attraction. If you're very lucky, you might be able to witness the rare 'Brachem Spectre,' in which you can see yourself in the clouds.
Udaipur, the City of Lakes
How can the place not be appealing when the tagline is so appealing? Moving from the south to the west in Rajasthan, Udaipur has to be one of the most magnificent blends of culture and scenic beauty for the Most Beautiful Places To Visit in India during the Monsoon.
The beautiful lakes and the enchanted clouds above them are a delight to see.
See : 10 Best Places to Visit in Udaipur
Mussoorie, the Queen of Hill Stations
During the monsoon season, this spunky monarch is a sight to behold. For all North Indians, the lovely hill region of Uttarakhand is a weekend retreat.
A wonderful perspective of the Dehradun valley, less time spent driving up the mountain, which is always a bonus for those who have motion sickness, and a large mall road for those who enjoy shopping.
See : 10 Best Restaurants In Mussoorie
Leh-Ladakh – Heaven on Earth
July-August is the greatest time to visit Leh-Ladakh in Jammu-Kashmir, i.e. the Most Beautiful Places To Visit in Monsoon in India because it is not influenced by monsoon and is the warmest compared to the rest of the year and all of the seasons it experiences.
This is the place to go if you don't want to get wet. Whether you are a travel aficionado or not, this crown of our country should be on everyone's bucket list.
Lonavala's Lush Green Carpet
We've all heard the Lonavala jokes, whether we're from Maharashtra or not, and here is the place to go during the rainy season. A beautiful lush-green carpet sight awaits you in this quiet location, along with breathtaking waterfalls, ponds, and roadside snacks of the 'chakli' variety. The location is pleasantly nestled in the Western Ghats' Sahyadri Mountains.
Enter a Beautiful Alleppey Scenery
If you haven't realized it by now, South India has the most treasures in terms of lush green beauty and water bodies that are especially lovely during the monsoon.
Alleppey, a tourist destination in Kerala, is one of the most beautiful places to visit in India during the monsoon season.
Athirapally – India's Niagra
Kerala is undoubtedly so gorgeous that these sites made it into the monsoon recommendations for India's Most Beautiful Places To Visit in Monsoon.
The 'Niagara Falls of India' is a magnificent refuge in 'God's Own Country.' During the monsoon, the location is very beautiful.
Shillong's Abode of Clouds
This North-Eastern city, nestled gently in the abode of clouds, is unquestionably one of India's most gorgeous monsoon destinations. This stunningly magnificent hilltop location in Meghalaya is unrivalled in its splendour.
Mawsynram is the wettest place on the planet
If there's one thing we all learned in school, it's that Mawsynram, near Cherrapunji in Meghalaya, is the wettest place on the planet. If you live in India or are planning a trip there, you should take advantage of the opportunity to see it at least once.
Conclusion
Whenever the rain pours down everywhere, monsoon transforms every place into a heavenly paradise, and this list of some of the best places to visit in monsoon is here to help you enjoy the experience of a refreshing road-trip in the rain, scenic beauty around these places, and also an adventure of a lifetime. The 10 Most Beautiful Places To Visit in Monsoon in India are mentioned above.
You can also get a greater experience by travelling to the town during the rains.