While a cup of Munnar's famed cardamom tea is best enjoyed at one of the booths, this little hill region is also littered with eateries worth visiting. If you've arrived in Munnar and want to indulge yourself, here's a brief list of eateries.
You can start at Saravana Bhavan, then go on to Rapsy (famous for its omelets), and finally to the Treetop Restaurant (good food, equally good views). A visit to the SN Restaurant, one of Munnar's oldest establishments, is also recommended.
Aside from these, its bylanes are teeming with street food booths, the majority of which sell fresh South Indian specialties.
There's a reward waiting for you if you go.
This list of the best Munnar restaurants focuses on quality rather than quantity. You may not have many options, but that is okay.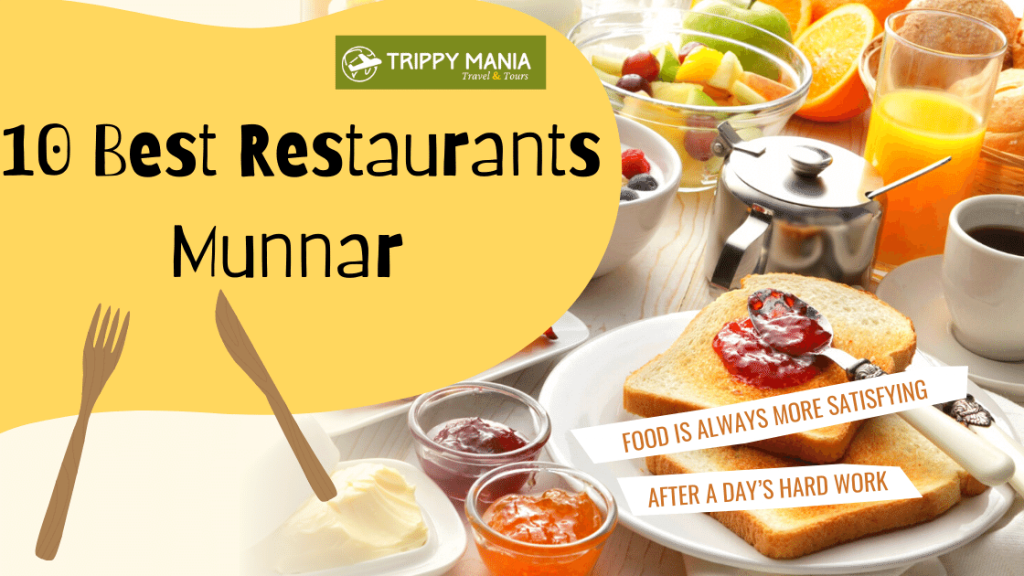 Though South Indian cuisine rules the roost at most Munnar restaurants, you may get a multi-cuisine experience as well, with delicacies from across the nation on the menu at locations like SN Restaurant. SN Restaurant, Hotel SN's in-house restaurant, is your go-to spot for substantial meals.
It combines vegetarian and non-vegetarian specialties from around India, including dishes from Rajasthan, Gujarat, Punjab, Andhra Pradesh, and Kerala. It is famed for its massive thali dinners, making it ideal for days when you are ravenously hungry. 
Appams, dosas, saag with bajra rotis, Gujarati kadhi, Malabari parottas, and more favorites are available here.
Fresh seafood, especially the Kerala specialty karimeen fish, is, of course, a specialty. A bright, old-fashioned charm prevails here, with simple décor in warm orange—ideal for a family supper.
10 Best Restaurants In Munnar
Saravana Bhavan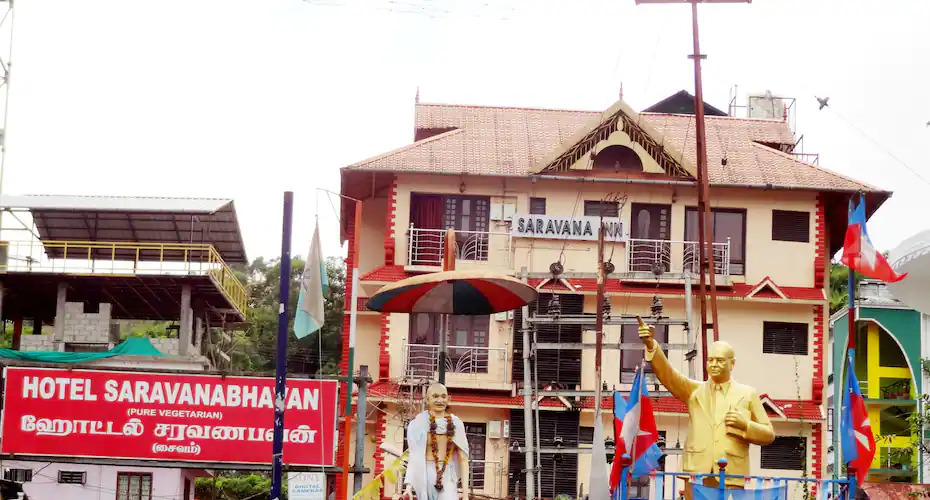 When you will visit Munnar for the first time it will always be an unforgettable one in Saravana. It is South India's favourite pure-veg chain has a branch in town, providing all the idlis, dosas, and filter coffee you could desire.
Due to the 2018 floods, the restaurant was closed at the time of the study, so check locally to see whether it has reopened. You won't get better meals anywhere else, and it's excellent value for money.
You can order dosa and it turned out to be the largest dosa you would have ever tried. The food isn't very tasty, but it's adequate. It was one of the most memorable and highly recommended places to eat in Munnar for me.
Rapsy Restaurant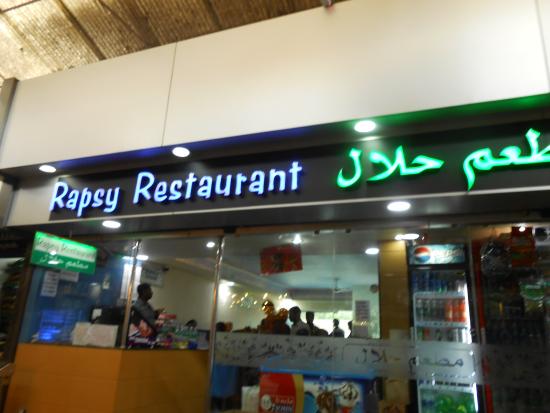 At noon, this pristine glass-fronted haven in the market is busy, with residents queuing for Rapsy's famed paratha (Indian-style flaky bread) or biryani.
It's also popular with tourists, and it does a good job with North Indian curries as well as elegant foreign dishes like Spanish omelet and Israeli shakshuka (eggs with tomatoes and spices).
Taste the Brews
An easygoing traveler-oriented café beside the bus station that serves Continental-style breakfasts (omelets, fruit salads), fresh juices, carrot cake, and tea and coffee samples.
The friendly proprietors manage the nearby Green View Inn and organize hikes.
Ali Baba & 41 Dishes
A sizzling Indian-international buffet of red-hot noodles, seasoned seafood platters, paneer/chicken tikka, northern gravies, and southern thalis draws both residents and visitors to this halal eatery near the bus station at the southern end of town.
Sree Mahaveer Bhojanalaya
This all-veg hotspot in the northern end of Munnar keeps families occupied with its vast choice of thalis: choose from Rajasthani, Gujarati, Punjabi, and more, with a spectacular assortment of vegetarian rice and curries.
SN Restaurant
SN, located south of town, is a cheerful establishment with a bright orange decor; at peak hours, it's full of people devouring thalis, masala dosas, and other Indian veg and nonveg meals.
Eastend
This brilliantly lit restaurant in the slightly smarter hotel of the same name provides Chinese, North and South Indian, and Keralan delicacies, as well as occasional buffets.
DTPC Food Court
The DTPC's outdoor food court, located next to a small playground, features a New York Chicken outlet, a dosa stall, and a juice bar.
Silver Spoon
Silver Spoon will satisfy your craving for excellent Kerala food. The restaurant is perhaps the swankiest in town and provides a wide range of delectable seafood.
Bamboo Hut
If you get a taste for quick cuisine while on vacation in Munnar, go to Bamboo Hut! It is one of the top fast-food restaurants, providing a variety of foods including soups, salads, snacks, and entrees. The music playing in the background adds to the ambiance.
See also :
Conclusion
Do you like to taste the great cup of Munnar's famed cardamom tea, if not then try it? Take advantage of this fantastic opportunity to book your amazing Munnar Restaurants with a feel of royalty!
And if you know of any other amazing new restaurants in Munnar where visitors may go for good food and royal vibes, please let us know in the comments section below.