Coorg is a land of stunning scenery, wonderful people, rich culture, and delicious cuisine. Every homestay, resort, hotel, and restaurant in Coorg boasts about serving the best traditional cuisine.
However, it is impossible to tell whether or not all of their statements are correct. So, other than a Kodava home, where do you go to experience the best of Coorg cuisine? What are some of the greatest restaurants in Coorg that you should go to?
The solution is simple: go where the locals eat! A local knows a location better than anyone else. So, here's a list of the 7 best restaurants in Coorg restaurants that locals recommend.
Few Restaurants In Coorg That You Shouldn't Miss out!
The East End Hotel: Home Of The Legendary Kheema Dosa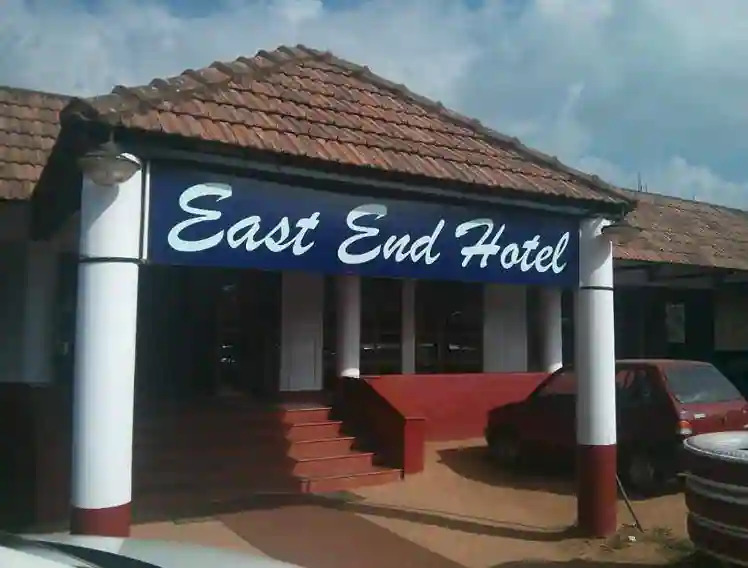 One of Coorg's oldest eateries in the East End Hotel in Madikeri. This location is a self-contained institution.
The majority of people in Coorg vouch for this historic hotel's excellent service and meals. The East End Hotel has remained largely unchanged throughout its history.
The cuisine is the same, and the people who serve it are the same.
The East End Hotel is situated on the main road that leads to Madikeri's town center. The food is still prepared using traditional spices and masalas.
Their kheema cutlets (minced lamb cakes) and keema dosa (dosa with spicy, minced lamb stuffing) are famous.
One of the key reasons East End has remained a Coorg favorite is because of these two dishes. The keema unde curry (lamb meatball curry) and the chicken fried are also available.
Coorg Cuisine: For A Taste of Authentic Kodava Food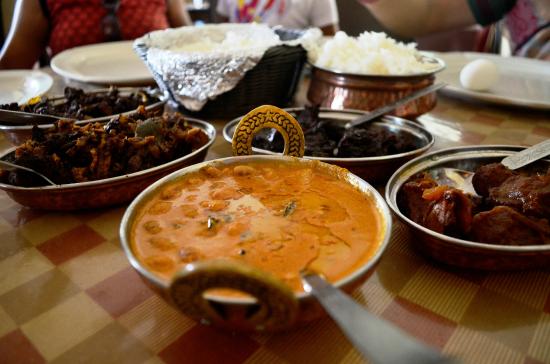 If you're looking for a venue to try real Kodava cuisine it is one of the best Restaurants in Coorg and the Coorg Cuisine is the place to go.
In Madikeri, the modest restaurant is located directly across from the Post Office. Coorg Cuisine is known for authentic Kodava cuisine prepared using traditional ways and spices.
They serve everything from kadambuttu-pandi curry (rice dumplings with pork curry) to paputtu-koli curry (steamed rice and coconut cake with chicken curry).
They also provide noolputtu-erachi curry (string hoppers with mutton curry).
Put your worries about the abundance of meat on the menu aside. Coorg Cuisine also offers excellent vegetarian options.
Seasonal foods popular among Coorg residents, such as kummu curry (mushroom curry), bambale curry (tender bamboo stalk curry), and kuru curry (bean curry), are also available. And the meal is so delicious that even the pickiest eater will be tempted to order more.
Capitol Village: Enjoy Great Food In The Middle Of A Beautiful Coffee Plantation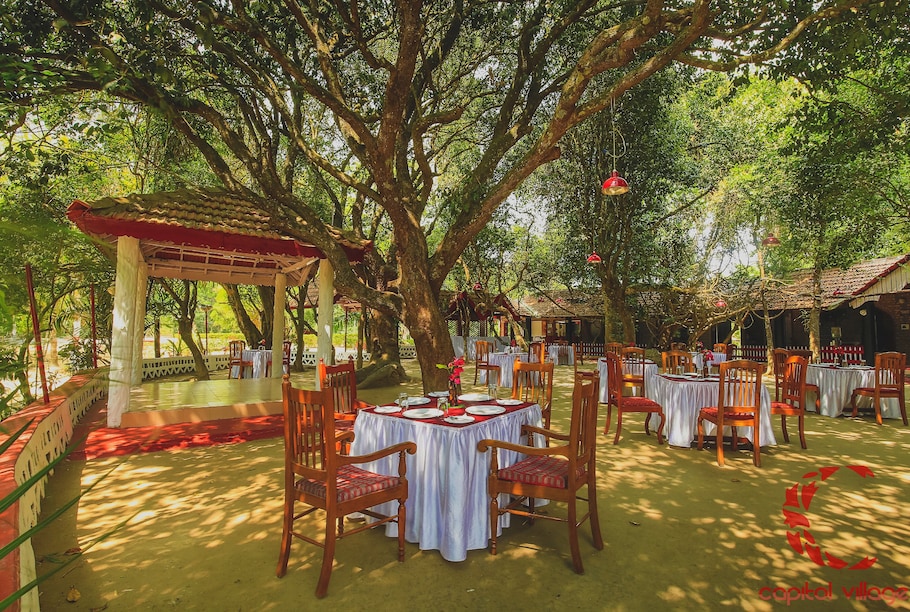 A true foodie will go to tremendous lengths to obtain exquisite food. If you're a foodie like that, you won't want to miss a meal at The Capitol Village's restaurant.
Madikeri town is a short drive from the eatery in Kadagadal village. The resort, which is set within a coffee plantation, is perched on a small hillside with views of a valley on one side and a lake on the other.
The Capitol Village restaurant serves Kodava cuisine as well as other cuisines. One of the best things you'll ever have is their spicy pork.
Furthermore, once you've tried their sannas (steamed rice cakes with coconut milk) and pandhi curry, you'll never want to eat anything else.
See : Top 10 Things to Do in Mumbai for Couples
Badriya: Home Of The Best Prawn Curry In Town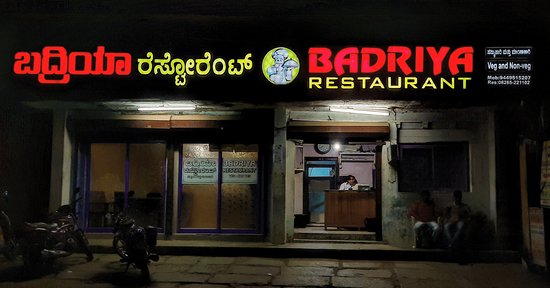 Badriya is a tiny restaurant in Virajpet's town center. The teeny-tiny eatery is one of Virajpet's oldest and most popular institutions. There are two Badriya restaurants in town, so don't get them mixed up.
We're talking about the Badriya restaurant on the right side of the road, which is smaller and older. The historic restaurant has limited space and is frequently filled with patrons eager to sample its excellent cuisine.
From shawarma (shredded meat wrapped in soft flatbread) to chicken kebab, the eatery has it all.
The prawn curry and pathal, however, are two dishes you must have before leaving Badriya (a kind of fried bread). Malayali cuisine is very popular at the restaurant.
MB Cafe: Enjoy Kodava Food At Affordable Prices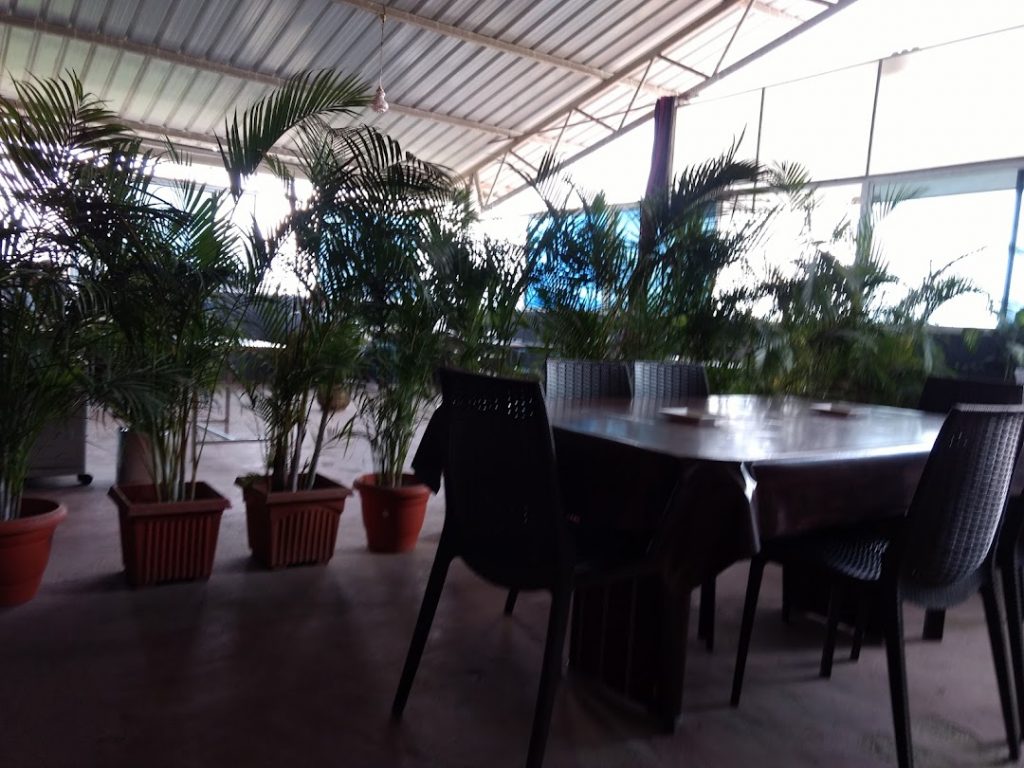 MB Cafe is the place to go in Virajpet if you want to try some traditional Kodava cuisine. The rooftop restaurant delivers delicious Kodava food at a reasonable price.
MB Cafe is one of Virajpet's oldest restaurants and a popular hangout for locals. Visit MB Cafe for some fresh kadambuttu and pandhi curry, as well as other Kodava cuisine.
The rooftop restaurant also features a bar where you may enjoy a drink while watching the city of Virajpet go by.
Coorg Gate: Great Food Amidst A Beautiful Landscape
For some fantastic food and views, take a beautiful drive to the Coorg Gate restaurant on the Kodagu-Kerala border.
The restaurant at Perumbadi Lake is located on a cliff with spectacular views of the surrounding area. Arabian, North Indian, and Malayali cuisines are served in the restaurant.
However, they are well known for their Arabian cuisine. The kebabs and ghee rice are to die for. Try the Malabar parathas with egg curry; we're confident you'll want more.
Potala Kitchen: The Best Restaurant In Coorg For Great Momos
Another renowned restaurant offering real Tibetan food is Potala Kitchen, a casual eating establishment in Bylakuppe.
The restaurant is well-known for its delicious food at reasonable prices. They provide everything from momos and thukpa to tingmo on their extensive menu (a traditional Tibetan dish).
Noodles, momos, and fried rice are among the most popular dishes.
More Deals :
Conclusion
So, above you can go to the list of the greatest eateries in Coorg, as voted on by both locals and visitors. Prepare to embark on a gastronomic trip to discover Coorg's flavors and tastes and try to visit all the 7 best restaurants on the Coorg trip.