India is a vast country with hundreds of fascinating sights to see. It can be difficult to narrow down the places you want to see during your vacation, so why should Goa be on your list if you're considering a trip to India?
9 reasons why Goa – India's Most Preferred Travel destination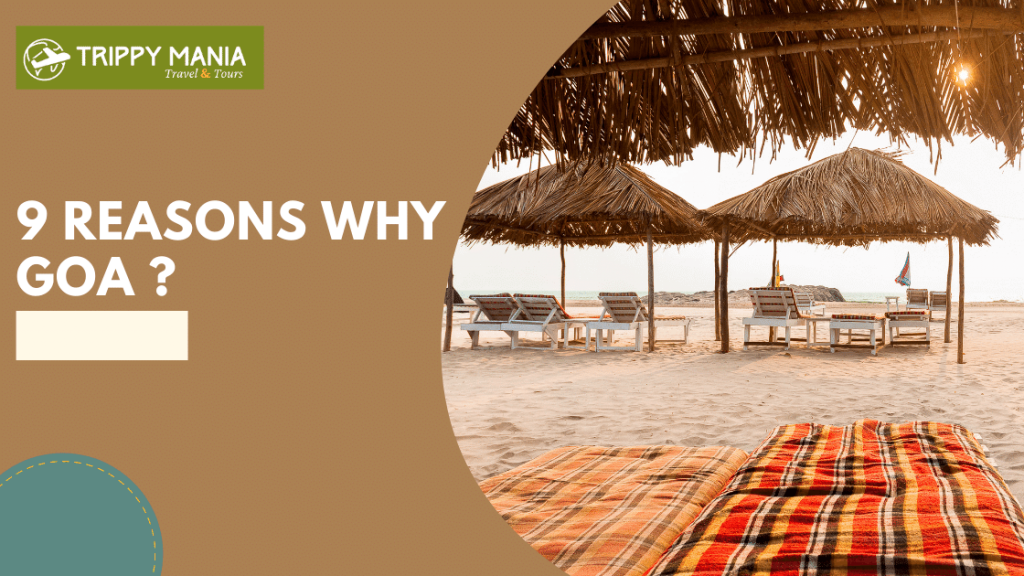 1. It's a Paradise for Water Sports.
Goa offers it all if you like water. The Arabian Sea runs the length of this Indian state's coastline, so there are plenty of beaches to go around. You can do scuba diving or snorkeling in the sea, take a sport fishing tour, or try kitesurfing, among other activities.
Goa also has some lovely rivers, such as the Zuari and the Nerul, which provide more relaxing activities like kayaking and backwater excursions.
See : Top 10 Best places to Visit in Goa
2. Get a flavor of the Portuguese culture that has been left behind.
The Portuguese controlled Goa until 1961, therefore the culture has left an indelible influence on the region. Many of the older residents, in fact, still speak Portuguese.
Take a stroll through Old Goa to get a sense of Portuguese culture, and make sure these three spots are on your itinerary!
3. There are accommodations to suit all budgets.
Another excellent incentive to visit Goa is that you can stay here regardless of your financial situation. Some of India's most opulent beach resorts can be found here if you wish to live in luxury.
However, if you're on a budget and want to visit India, there are lots of hotels that will provide you with all of the amenities of home while still staying within your budget.
4. Party or unwind: the choice is yours.
Goa is famed for its party atmosphere, and if that's your thing, you'll love it here. In Goa, the nightlife never ends, and there are plenty of locations to dance till dawn.
However, once you've had your fill of the nightlife (or the hangover), Goa offers a variety of venues to unwind and simply enjoy life.
Goa has everything you need to unwind, whether it's soothing forest excursions, old-world heritage, or beaches that look like they sprang straight from your computer's wallpaper.
5. Enchanting wildlife
Of course, you won't be completely relaxed until you've seen some of Goa's natural wonders.
Goa is a birdwatcher's heaven, with over 450 kinds of birds. To see some feathery companions, go to the Dr. Salim Ali Bird Sanctuary in Chorao.
Other unusual animals found in Goa's wildlife sanctuaries include pangolins, guars, chitals, and elephants. The largest refuge is found within Mollem National Park, which is roughly a two-hour drive from Panaji.
6. Just going to these three museums is worth it.
This museum, which is located in old Goa, is a wonderful portrayal of Goa's Christian legacy. You'll realize what a lovely blend these two cultures formed when you look at Indo-Portuguese Christian art.
The Archaeological Museum is another must-see attraction in the city. Examine relics such as Portuguese swords, old maps, bronze statues, Persian and Arabian inscriptions, and more to learn about Goa's history.
7. All-inclusive flea marketplaces
When you've had your fill of Portuguese culture in Goa, return to India via flea marketplaces like the one in Anjuna.
This oceanfront flea market is brimming with unique finds, many of which are handcrafted. Make a point of visiting Anjuna on a Wednesday to view this market! When you've had your fill of shopping, take a stroll along the beach or head inland to the German Bakery for some laid-back vibes and vegetarian fare.
8. Volunteering opportunities
Goa is more than just a tourist destination. Check out the volunteer options in the local community if you're seeking a way to give back while traveling.
Volunteering allows you to do good while travelling the world, and it also allows you to meet the amazing and hospitable people of Goa.
9. Dudhsagar Falls Trek
Just 60 kilometres (37 miles) from Panaji sits one of the country's greatest waterfalls. Its four layers rise to a height of almost 310 metres (1017 feet), creating an amazing impression in the forest that will truly halt you in your tracks.
See also :
Conclusion
Goa is a dynamic and culturally rich region with plenty of fresh sights to visit and adventures to partake in. These are the 9 reasons why Goa? You may start packing your bags and getting ready for a truly Goan adventure now that you have a list of ten great reasons to visit Goa.