Mandawa is one of the most famous tourist destinations. And I am confident that you will be able to explore the most popular tourist towns in peace. Some of the Top Places to Visit in Mandawa that you should not miss are listed below.
10 Best Places to Visit in Mandawa are as follows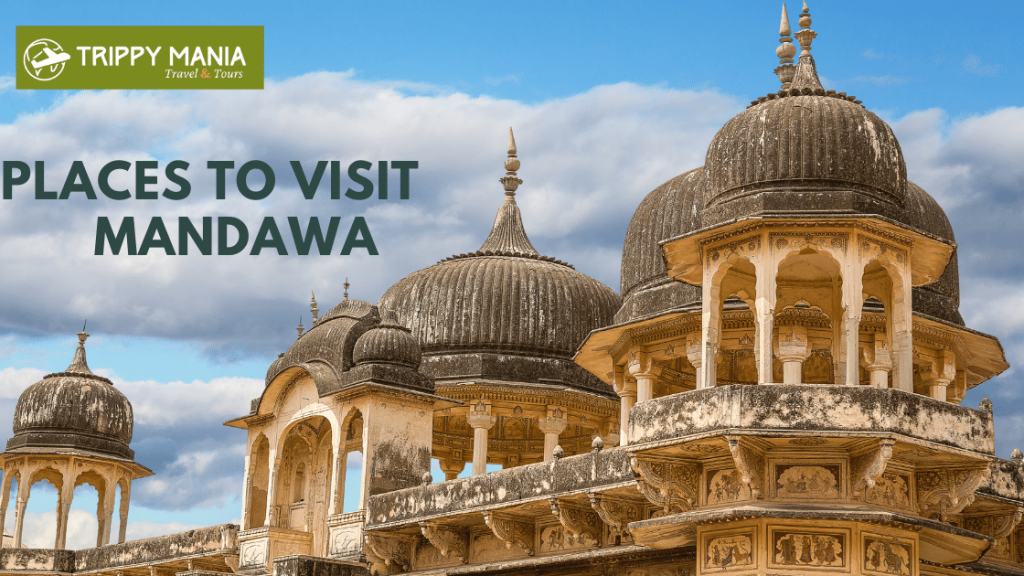 Murmuria Haveli
This is a haveli famed for its paintings of all of the old era's famous leaders. An artwork depicting Jawaharlal Nehru riding a horse and carrying the tricolor can be seen in the haveli. The Murmurs Haveli was created in the traditional Rajasthani style and is a breath-taking structure thanks to Rajasthani architecture.
Even though it was constructed in the 1930s, it remains one of Mandawa Rajasthan's most popular tourist destinations.
Their artwork is amazing, and I am confident that you will be able to appreciate many of their paintings.
The Harlalka Well 
Even now, many people are unaware of the history of Harlalka Well. This is a site that is only a few feet away from the Murmuria Haveli, and it is a rustic and picturesque spot.
So, take a camel ramp up to the well, and the only precaution you should take here is to be very careful because there are no guard railings to prevent you from falling in. The well is incredibly deep, yet there is still plenty of water in it. This is one of the places where you may unwind and unwind.
Haveli of Hanuman Prasad Goenka
This and many other Havelis in and around Mandawa are thought to be owned by the Goenka family. Because of the various types of artworks and, last but not least, the gorgeous carvings done in the haveli, the Hanuman Prasad Goenka Haveli is a well-known attraction for all travellers.
The most famous picture in this Haveli is of Lord Indra riding his elephant, who is considered to be the monarch of the gods.
Haveli Gulab Rai Ladia
This haveli is regarded as one of Mandawa's most opulent houses. For all of its unusual iconography, this haveli is regarded as an extraordinary work of art and architecture. The haveli is noted for retaining its charm and vintage even today.
Bansidhar Newatia Haveli 
The lovely and colorful paintings are the most well-known feature of this location. This haveli is one of the most well-known tourist sites in the area, with thousands of history buffs and tourists flocking to the area.
The Chokhani Double Haveli 
This haveli was constructed in the 1990s and was divided into two wings for two brothers. This haveli is notable for its gorgeous archways, which are similar to those found in the town's other Havelis.
The haveli also has some of the best, most remarkable, and one-of-a-kind paintings depicting all the world's leaders engaged in diverse activities.
See : Fun Facts about Leh Ladakh
Art Gallery in the Park
Although there is no set site for this, the entire city can be considered an open art gallery. Mandawa was the most popular halt for merchants passing over this route in ancient times.
Mandawa Shopping
In Mandawa, you may also visit all of the local bazaars. These are antique shops that sell a variety of antiquities such as local handicrafts, paintings, adorned chests, cradles, chairs, low stools, and tables.
The Bungle Restaurant
This favorite venue for all travelers is located near the Bikaner bus stop and serves great tandoori and cold beer in a down at heel set.
The cuisine is freshly prepared by a chief who is attempting to hail from one of Mandawa's hotels. Those who get up early can enjoy an early morning brunch as well as yoga courses that begin at 5.30 a.m. and end at 6.30 a.m.
Monica Rooftop Restaurant
This is generally a Rooftop Restaurant that is located in between the Fort gate, and the main bazaar. This Restaurant serves tasty Indian and Chinese beer and is in a converted haveli but only the facade rather than the entire restaurant itself.
More Places to visit :
Conclusion
Mandawa is one of Rajasthan's most picturesque towns. This is also a spot where you will be able to see how the royals have continued to live lavishly in Rajasthan.
There are the 10 Best Places to Visit in Mandawa to go on a trip with family and friends.
Though the town is known for being an open gallery, you can be sure that around every corner you will find stunning paintings and artwork that is not only distinctive but also humorous. With the Havelis strewn across the town, I'm confident you'll continue to fall in love with Mandawa.